Tyson Recalls Over 75,000 Pounds Of Frozen Nuggets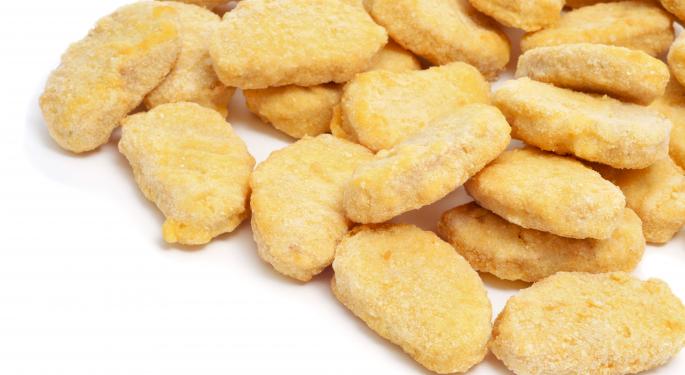 Tyson Foods (NYSE: TSN) is recalling 75,320 pounds of frozen white meat chicken nuggets sold at Sam's Club (NYSE: WMT) stores nationwide.
Consumers complained that they found small pieces of plastic in the nuggets, prompting the recall of the 5-pound bags.
The recall is for the "Tyson Fully Cooked White Meat Chicken Nuggets" (item number 16142-928) with "Best if used by" dates of Jan. 26, 2015 or Feb. 16, 2015. The affected products will have manufacturer codes "0264SDL0315 through 0319 or 0474SDL0311 through 0314."
Also included in the recall are 20-lb bulk packs of "Spare Time Fully Cooked Nugget-Shaped Chicken Breast Pattie Fritters w/Rib Meat" (item number 16142-861). The manufacturer codes are the same as the chicken nuggets.
The U.S. Department of Agriculture said the problem was linked to a product scrapper inside a blending machine. There were reports of minor oral injury as a result of eating the affected products.
Related: For Retail Gains, Go East, Young Investor!
"Tyson Foods has inspected all lines at the production facility to ensure product quality standards are being met and has implemented corrective measures at all of its facilities to prevent similar occurrences from happening," the company said in a press release.
Tyson Foods declined to comment for this article.
Recalls in the industry are rare, National Chicken Council spokesperson Tom Super told Benzinga.
"Out of the 38 billion pounds of chicken that we produce per year, recalls represent only a very small fraction of total production," he said.
Super said recalls indicate that food safety systems in place both at company and federal regulatory level are working properly, ensuring that affected products are promptly removed from the marketplace when an issue is discovered.
"Having these appropriate safeguards in place ensures that we have the safest, most wholesome and most affordable chicken supply in the world," he said.
Other industry recalls
There are a few chicken product recalls, unrelated to Tyson's issue, that have to do with mislabeled products.
American Outdoor Products is recalling approximately 633 pounds of dehydrated Fettuccini Alfredo with Chicken due to misbranding and undeclared allergens, according to the USDA. The affected products contain known allergens milk and wheat, but don't list those ingredients on the label. A Vermont retailer discovered the issue and notified the company.
AdvancePierre Foods is also recalling about 8,730 lbs of frozen chicken breast, also due to misbranding and undeclared allergens. Milk and soy were not declared on the label. The problem was discovered by the company during an internal label review.
Posted-In: AdvancePierre Foods American Outdoor Products comments food safety National Chicken CouncilNews Retail Sales General Best of Benzinga
View Comments and Join the Discussion!