Boeing Takes The Lead Over Airbus In New Orders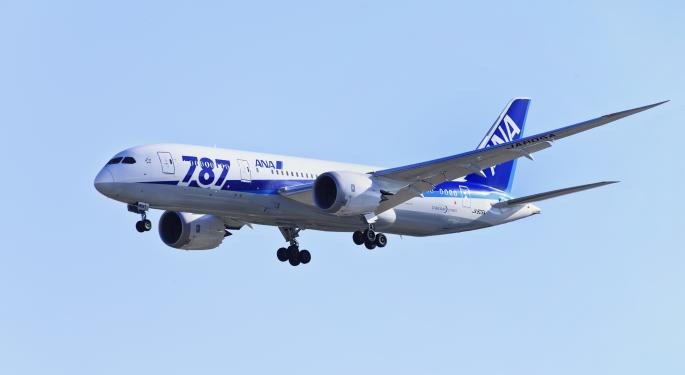 When it comes to new airplane deals, there are exactly two titans – Boeing (NYSE: BA) and Airbus (OTC: EADSY). As of the end of the first quarter, Boeing jumped ahead of Airbus, a position it definitely wants to maintain.
The change of position resulted from cancellations of Airbus orders and the fact Boeing landed a large Canadian sale, according to company data. All this despite the fact Airbus said it won 40 new orders in March and was able to broker a deal in which China unblocked 27 orders of Airbus A330 jets recently.
Those achievements, unfortunately, were wiped out with two major order cancellations, including 12 A350-800 airplanes and an additional five A330s according to Gulf Daily News.
Related: Boeing Considers Purchase of Mercury Systems
After all calculations, by the end of the quarter, Airbus had netted 103 orders for new planes. Meanwhile, Boeing said Thursday it had won 234 net orders in the first quarter after subtracting cancellations from the original figure of 275 airplanes.
The Air Canada sale for 61 narrowbody jets resulted from a supplier change on the part of Boeing's neighbor to the north. Airbus reported that its cancellation, for A350-800 aircraft, came from Aircraft Purchase Fleet, a Dublin, Ireland-based leasing firm. Those planes were originally set to go to Alitalia.
Competition between Boeing and Airbus has always been intense. Historically, according to GuruFocus, the American company has led the widebody sector thanks to sales of the company's 777 Dreamliner 787 aircraft. European corporation, Airbus, has maintained an edge in the narrowbody segment.
A big problem for Boeing has been the fact that Airbus offered huge discounts, something that has been difficult for Boeing to do, due to the cost of components, which makes up more than 66 percent of the cost of an aircraft.
As a result, Boeing initiated a program it called "partnering for success" with its various vendors. The company asked suppliers for discounts of as much as 20 percent. The idea was to "partner" with the vendors to help them gain efficiency – and lower costs.
Apparently, Boeing planned to play hardball with the program, cutting off vendors who refuse to give discounts and join the partnership. Clearly the Q1 gains made by Boeing were not enough to satisfy the company, hence the recent rumor that Boeing planned to acquire component maker, Mercury Systems (NASDAQ: MRCY).
Although the Mercury acquisition was still in the "rumor" stage, if Boeing were to buy the company that move alone would go a long way toward controlling component costs as well as expand Boeing's footprint in aviation in general.
At the time of this writing, Jim Probasco had no position in any mentioned securities.
View Comments and Join the Discussion!
Posted-In: 777 787 A330 A350-800 Air CanadaNews Events Media Best of Benzinga