Mozilla CEO Steps Down Amid Controversy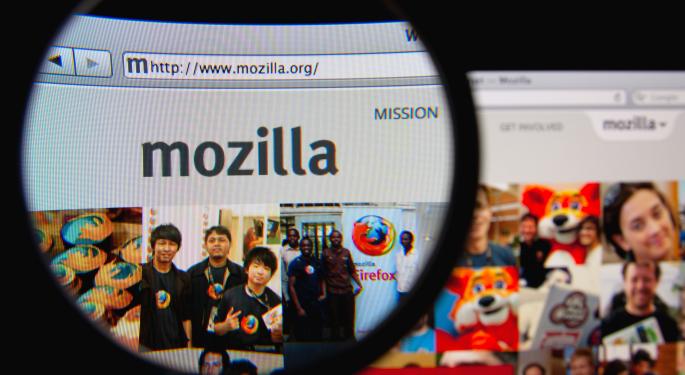 Mozilla's Brendan Eich will step down as CEO, the company said in a blog on Thursday, just a week after the company announced his appointment to the position.
Mozilla has been under a firestorm from both users and its own employees after it announced Eich's appointment because of a $1,000 donation he made six years ago in support of Proposition 8, a California initiative to ban same-sex marriages.
Eich is a co-founder of Mozilla and the creator of the programming language Javascript. He was appointed CEO March 25, and the company saw immediate backlash on Twitter and blogs.
Like many @Mozilla staff, I'm taking a stand. I do not support the Board's appointment of @BrendanEich as CEO. #Prop8 http://t.co/msKVNjuhgR

— Kat Braybrooke (@codekat) March 27, 2014
A day after the announcement, Eich and Mozilla chairwoman Mitchell Baker posted another blog about Mozilla's statement on diversity.
Related: Brian Sozzi's 3 Keys To Business Via The Squared Circle
"Mozilla has always been deeply committed to honoring diversity in sexual orientation and beliefs within our staff and community," the blog said.
OkCupid was among the protestors of Eich's appointment. If you tried to visit the online dating service through Mozilla last week, you were stopped by a message from the company explaining its position on the matter.
"Pardon this interruption of your OkCupid experience," the message read. "Mozilla's new CEO, Brendan Eich, is an opponent of equal rights for gay couples. We would therefore prefer that our users not use Mozilla software to access OkCupid."
The message also provided links to download other web browsers like Google Chrome and Safari. After the announcement of Eich's departure, OkCupid is back to normal on Firefox.
A few days after that, Mozilla posted another blog saying it supports equality for all, including marriage for LGBT couples.
"No matter who you are or who you love, everyone deserves the same rights and to be treated equally," it said.
Eich's appointment has been controversial on many levels. Three of Mozilla's board members have resigned. The departure of former Mozilla CEOs Gary Kovacs and John Lilly, as well as CEO of education startup Shmoop Ellen Siminoff, leaves the board with only three remaining members. The Wall Street Journal reports that the departing board members sought a CEO from outside the company.
Posted yesterday, the company's latest blog explaining Eich's departure is extremely apologetic.
"We didn't act like you'd expect Mozilla to act. We didn't move fast enough to engage with people once the controversy started. We're sorry. We must do better," the blog said.
There's no word so far on who will replace Eich.
View Comments and Join the Discussion!
Posted-In: Brendan Eich LGBT Marriage Equality Mozilla Mozilla FirefoxNews Management General Best of Benzinga