Exclusive: Tibco CEO Vivek Ranadivé Discusses Spotfire's Weakness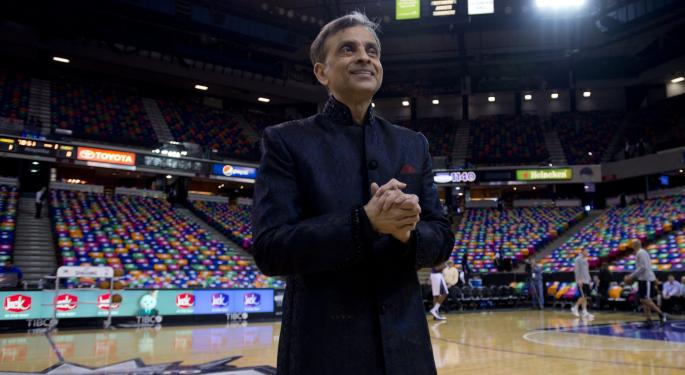 In an exclusive interview with Benzinga, Tibco Software (NASDAQ: TIBX) Chairman and CEO Vivek Ranadivé  discussed Spotfire's weakness in the first quarter and how the company plans to resolve issues.
In the first quarter conference call, Ranadivé described weakness in Spotfire and the need to make the product easier to consume. In his discussion with Benzinga, Ranadivé noted the company did well at the top end of the pyramid and now needs to focus on the bottom end.
"We want to make it easy to download and purchase it, even more so than Tableau (NYSE: DATA)," he said.
"Basically right now we have a very cumbersome pricing model where we only do term licenses and its really directed at the top end of the pyramid. The product is very easy to use so that is not so much of an issue," he continued, "it more has to do with how people can try it out and how they can buy it, and how they can use it."
In addition, Ranadivé discussed the need to build a sales team to monetize free downloads.
Related: Exclusive: Looking At Future Sales Growth With Tibco CEO Vivek Ranadive
"Its sales enablement, its pricing, its marketing, and some ease of use, but that's [ease of use] probably more like 15 percent of the equation," he said. "The other 85 percent is all those other factors."
In terms of a time line to boost Spotfire to the sales level it is capable of, Tibco expects a very quick turn around: three to six months. "I have a philosophy that we are a no excuses company," Ranadivé said, "if we aren't doing well at something, we say hey, we aren't doing well at this and we need it and we get onto the business of fixing it."
Tibco also launched a cloud recently, with the intention of making products easier to consume. "We give customers an option,"Ranadivé noted, "it can be on premises or cloud and more and more of them are choosing to go cloud."
This is the third of a three part series. Be sure to read Ranadivé's exclusive comments on valuation and revenue growth.
Posted-In: software Spotfire Technology Vivek RanadiveNews Tech Interview Best of Benzinga
View Comments and Join the Discussion!