5 Company Pranks On April Fools' Day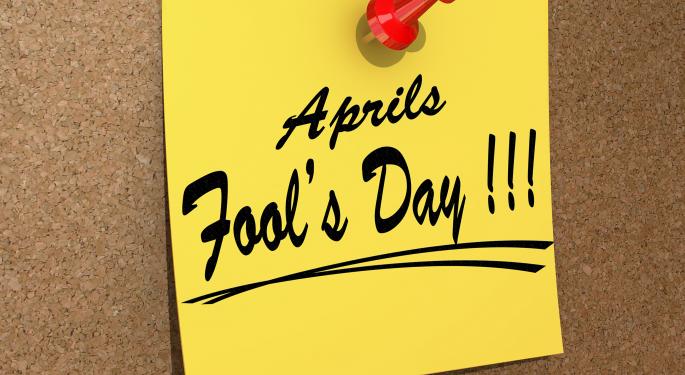 April Fools' Day can be a great public relations opportunity for companies, but it can also turn into a strange marketing campaign that no one really understands involving wolf pigeons and shark falcons.
Tesla CEO Elon Musk may not be a fan of companies participating in the festivities.
Flowchart: Should your company do an April Fools gag tomorrow? pic.twitter.com/7m6nuwJyRj

— Bored Elon Musk (@BoredElonMusk) March 31, 2014
But apparently blog writers at his company are. Here's a round-up of the best pranks companies came up with this year.
Tesla
Forget self-driving cars. Tesla (NASDAQ: TSLA) wants to let your pet drive you around. A blog post from the automaker announced its new venture to create pet-driving cars. The blog explains that they first tried dogs and cats, but landed on fish as the best pet chauffeurs because their aquatic nature equips them with a Zen-like calm. Musk is quoted as saying his "little chum, Eric the goldfish, has an uncanny sense for what direction to swim or drive."
Related: 25 Year-Evolution Of Startups With Brad Feld
Google
Notorious for its April Fools' Day pranks, Google (NASDAQ: GOOG) never fails to come out with new ones each year. This year's antic involves a worldwide search for the company's newly-created position of Pokemon Master.
A promotional video for the gig explains that Google maps users can now find Pokemon in the app. There's even a disclaimer at the end that warns side effects of the challenge may include "extreme excitement and a sense of accomplishment." Although the job opening might not be real, you can actually find Pokemon in the latest version of the iPhone and Android app.
Samsung
Samsung (OTC: SSNLF) came out with a "wearable glove" called Samsung Fingers, where users can literally talk to the hand. The sketch shows a regular-sized glove with an LED screen on the palm, and wearers can make calls by assuming the rock-concert "hand horn" gesture.
Its features include "palm-rec" where the glove can recognize any object placed in it and give the user a recommendation on what to do with it. The glove can also amplify voices and snaps to the point of overwhelming others, "much like a vuvuzela."
Sam Adams
The Boston Beer Company (NYSE: SAM) announced a new beer from Sam Adams, available for one day only: HeliYUM. It's a beer that "leverages the first of the six noble gases," the company's website says. A video about the brew shows Sam Adams founder Jim Koch explaining the beer's flavor, and getting a very high-pitched voice every time he takes a sip. Other people drinking the beer get the giggles and experience lightheadedness.
Frito-Lay
PepsiCo's (NYSE: PEP) Frito-Lay sent out a press release saying that Cheetos mascot Chester Cheetah would enter the cologne market with Cheeteau. The scent is a "prestige, limited-edition fragrance that celebrates the irreverent, intriguing and playful nature of the iconic feline with a scent bold enough to excite and delight," the release said. There's even a black-and-white, romantic advertisement for the fragrance on its own Samsung Fingers.
Posted-In: April Fools' Day Elon Musk frito-lay Pokemon Sam Adams twitterNews General Best of Benzinga
View Comments and Join the Discussion!