Detroit's Big Three Auto Makers Report March Sales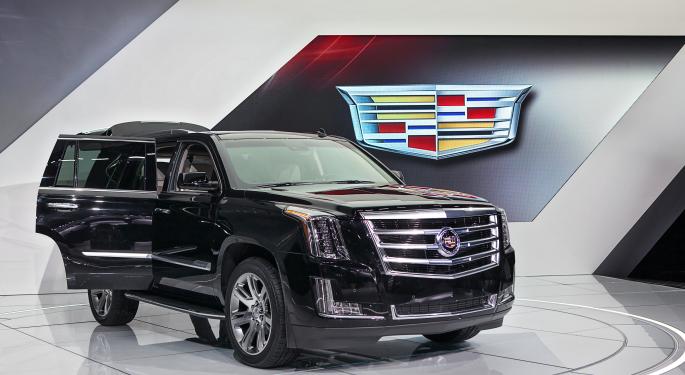 On the first day of each month, major auto manufacturers report their previous month's total sales.
The data is closely monitored by both investors and auto enthusiasts to keep up with the most up to date information on how the manufacturers are performing in a tough economic environment that is full of competition.
Chrysler: Another strong month
The momentum for Chrysler continued in to March as the company reported its 48th-consecutive month of year-over-year sales gains as total unit sales rose 13.0 percent to 194,000.
Sales of trucks rose 34 percent year over year to 147,045 units on the strength of the Jeep brand that saw a 47 percent increase in sales, the largest sales gain of any Chrysler Group brand during the month.
The Jeep Compass and Jeep Patriot posted its best monthly sales ever while the Jeep Wrangler recorded its best March sales ever. The new mid-size SUV, Jeep Cherokee, saw its second best sales month since it debuted in October.
See also: Economic Collapse Status Report - It's Still Not Time
Elsewhere, the Ram pickup truck saw its sales rise 26 percent year over year, representing its best March sales in ten years. Of interest, the Ram 1500 EcoDiesel truck began arriving at Ram Truck dealerships in March for the first time. The truck has a certified 28 MPG and is armed with 420 pounds per foot of torque and 9,200 lbs of towing capacity.
Car sales, on the other hand, declined 25 percent year over year to 46,870 units. The largest lagger was the Fiat 200 whose sales declined 55 percent year over year to 7,521 units. The Fiat Model 500 posted its best March sales month, despite sales declining 13 percent year over year. Sales of the 500L notched its best performing month since the car was introduced back in June. Sales of the Fiat 500e all-electric vehicle were up 95 percent year over year while the 500L.
Ford: Best March in Eight Years
Unlike Chrysler, Ford (NYSE: F) showed gains across all segments in March. Sales of trucks rose 4.1 percent year over year to 86,378 units while utilities rose 3.6 percent and car sales rose 2.6 percent. In total, Ford sold 244,167 vehicles.
Sales of Ford F-series trucks surpassed the 70,000-vehicle sales mark with 70,940 trucks sold in the month, representing an increase of 5.1 percent year over year. This marks only the fifth time in history that monthly sales volume of the F-series surpassed the 70,000 truck mark.
Ford Fusion, one of the best selling cars in the world, set an all-time monthly record with 32,963 vehicles sold. Sales of Lincoln MKZ also set an all-time monthly sales record in March with 4,052 vehicles sold, a rise of 72 percent year over year.
Overall, Ford saw the largest percentage gains in its Lincoln division with total sales rising 31.4 percent year over year to 8,969 units.
General Motors: Outpacing the industry
General Motors (NYSE: GM) kept up with its peers in a highly competitive environment as the company delivered 256,047 vehicles, a gain of four percent year over year. Retail sales were up seven percent as General Motors gained retail market share. Fleet sales fell five percent year over year as part of a planned reduction in rental deliveries.
In terms of trucks, The GMC Sierra recorded a 23 percent gain in units sold while deliveries of the Chevrolet Silverado, the 2014 North American Truck of the Year rose 14 percent from last year. In fact, The Chevrolet Silverado brand was named as the cheapest vehicle in terms of fuel, insurance, maintenance and repair costs in its class, according to Vincentric.
Deliveries of cars were equally strong in the month. Sales of the Cadillac SRX line rose 37 percent, while the CTS line saw sales rise 11 percent after the new 2014 CTS sedan was named the 2014 Motor Trend Car of the Year. Also, the Buick Regal saw sales rise 52 percent while the Buick Encore saw its sales grow 71 percent.
General Motors noted that its incentives as a percentage of average transactions prices were ten percent compared with a 10.3 percent average for the industry, according to J.D. Power estimates. The company also noted that the average selling price per vehicle set a new record of $34,000, up $2,000 from February and more than $3,800 from a year ago.
General Motors reported its data late Tuesday afternoon due to a "computer systems issue that impacted dealer sales reporting."
Other major manufacturers
Honda (NYSE: HMC) unit sales fell 2.0 percent to 133,318 in March.
Toyota (NYSE: TM) unit sales rose 4.9 percent to 215,348 in March.
Mazda unit sales rose 9.0 percent to 34,903 percent in March.
Subaru unit sales rose 21.2 percent to 44,479 in March.
BMW unit sales rose 7.9 percent to 35,672 in March.
Hyundai unit sales fell 1.9 percent to 67.005 in March.
Nissan unit sales rose 8.3 percent to 149,135 in March.
Volkswagen unit sales declined 2.6 percent to 36,717 in March.
View Comments and Join the Discussion!
Posted-In: BMW Cadillac Cadillac SRX Chevrolet Silverado Chrysler Detroit Big Three FiatNews Best of Benzinga