Checked Out? StubHub Sales Falter After Eliminating Hidden Fees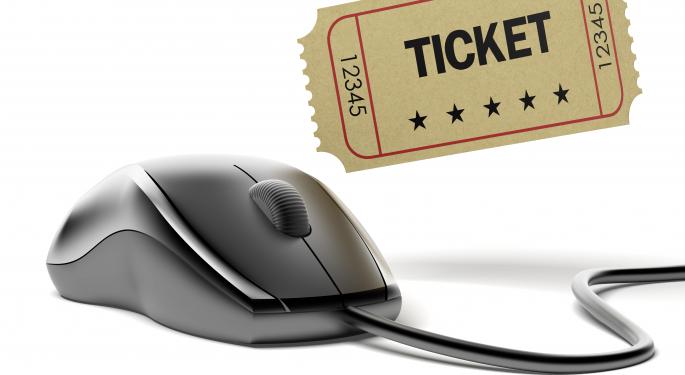 StubHub's effort to please customers by eliminating hidden fees might have backfired. Sales have dipped for the online marketplace, owned by eBay (NASDAQ: EBAY), after switching to an "all-in" pricing scheme earlier this year.
Hidden fees are the biggest everyday annoyance for Americans, according to Consumer Reports, so StubHub's new approach includes service charges and delivery fees in the initial prices listed for tickets.
But the prices seem more expensive with the total cost presented upfront, and StubHub sales have fallen, the Wall Street Journal reports. Some ticket brokers say sales have fallen by 15 to 50 percent since the pricing change.
See also: Short Interest In Social Media On The Rise (EBAY, GRPN, ZNGA)
Although StubHub's prices may seem more expensive initially, hidden fees on other websites spike up the prices at checkout. A floor seat general admission ticket to the Lady Gaga concert at the Joe Louis Arena in Detroit this May is listed as $133.66 on StubHub (that includes a $3.75 service charge and $5.00 delivery charge), $117 on TicketNetwork.com (plus $23.40 service charge and $15.00 delivery fee = $155.40), and $114 on VividSeats.com (plus $28.30 service charge and $14.95 delivery fee = $157.25).
Rick Schefter, president of the ticket-brokering website A Great Place to Sit, told Benzinga he has heard the pricing model has hurt the StubHub's sales.
"Our sales are down with StubHub, and they are up in other areas," he said.
But, he said, another big factor is how the tickets are delivered. StubHub used to have a monopoly on the instant delivery mechanism.
"That mechanism, which is a huge consumer driver, is now available on competitor sites," said Schefter, "and I see that taking a huge bite out of StubHub's sales."
StubHub did not return requests for comment.
Different strategies
StubHub isn't the first company to take this kind of approach.
Ticketmaster, a subsidiary of Live Nation (NYSE: LYV), did something similar a few years ago. Then-CEO Nathan Hubbard announced via Ticketmaster blog that the company would present a new way of pricing and fees, where a customer can hover over a ticket price and see how the number shown is the total of the actual ticket price plus the service charge.
"We get it – you don't like service fees. You don't like them mostly because you don't understand what the heck they are for," the blog says.
But Ticketmaster still manages to tack on a $4 processing fee at the end of the order, in addition to the delivery fee.
Educating consumers
Marketing for the new pricing strategy lacked a press release or public announcement. The company informed its customers of its all-in pricing via email sent out in late January.
"On StubHub, you'll see the final price right when you hit the site. Nothing more will be added to your cost. Not even delivery charges," the email said. "Interested in Justin Timberlake tickets that you see listed for $100? Well, $100 is all you'll pay. On other sites, that same ticket might be listed for $88, but will cost you $104 when it's all said and done."
StubHub could benefit from educating its customers about how the higher prices reflect the elimination of hidden fees, Shefter said.
"Any large company like that certainly has the wherewithal to do that kind of campaign," he said.
AllShows.com CEO Jason Berger told Benzinga he expects the initial drop in sales from the pricing change will subside when customers understand the all-in pricing model.
"Eventually, I believe it will be more prevalent in the marketplace and provide consumers a better understanding of the prices they are being charged," he said.
Posted-In: A Great Place to Sit AllShows.com commentsNews Rumors Retail Sales Media General Best of Benzinga
View Comments and Join the Discussion!