Quicken Loans Wins Big In Billion Dollar Bracket Challenge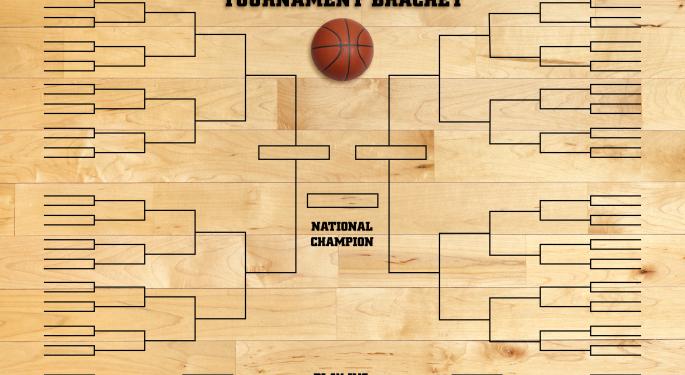 Although no one will take home the $1 billion from the Billion Dollar Bracket Challenge, there is a clear winner: Quicken Loans.
"Quicken Loans scored a giant win first by partnering with the incredibly respected Warren Buffett and next by launching a thrilling marketing campaign," FD Parker & Associates public relations consultant Farrah Parker told Benzinga.
Quicken has had an estimated 1 billion social media and PR impressions since the contest began, president and CMO Jay Farner told USA Today. Brand awareness for Quicken also increased 300 percent.
The bracket challenge enticed many non-sports fans and allowed Quicken Loans to expose its brand beyond just the college basketball audience.
"As a result, the public relations team behind the challenge cast a wider net, which may result in a greater market share for Quicken Loans," said Parker.
Parker said public relations experts are already scrambling for the next competitive concept that will demand the world's attention in Quicken Loan's remarkable fashion.
Related: Warren Buffett's Basketball Bracket Madness Ends Twice
Although the odds of winning are incredibly slim -- 1 in 9.2 quintillion, to be exact -- it played on the hopes of those who dream of winning a huge grand prize.
"Whether you enjoy competitive sports or not," said Parker, "an extraordinary percentage of the population thrives on the idea of winning an amount of money that would seemingly erase every problem they may have once held."
Ratings Winner
Parker said the undeniable winner is Warren Buffett, who solidifies his title as one of the most respectable financial figures in U.S. history. The bracket challenge may have also boosted television ratings for March Madness.
The NCAA championship is experiencing its highest viewership in 21 years. In its opening week, the tournament averaged more than 9.2 million viewers, a four percent increase from the same period last year, according to Turner Broadcasting. The games are spread out across CBS (NYSE: CBS), TBS, TNT and truTV stations.
The bracket challenge draws the attention of NCAA fans and those who might have never tuned in to watch March Madness, Parker said.
"However, there are many factors that may contribute to increased interest. NCAA has altered the way in which it broadcasts games, specifically by airing games across multiple channels," said Parker. "Furthermore, the accessibility of live Internet streaming produces yet another boost to ratings."
BIA/Kelsey senior vice president and chief economist Mark Fratrik said the bracket challenge certainly added excitement. Fratrik, himself, filled out a bracket. But he said there are a number of other factors that could lead to more hype surrounding the tournament.
"There isn't any really one clear favorite," he said. "There's a lot of really good teams."
Cold weather in the east could also be keeping people indoors more, Fratrik said.
Pay the players?
The bracket challenge's success also brings up the issue of whether college athletes should be compensated.
"Considering the 2013 tournament drew more than $1 billion in advertisement revenue with 2014 projections to be even greater, the NCAA must eventually address the growing disparity between what the association earns and what the athletes who drive the revenue earn," said Parker.
A recent poll from the Washington Post and ABC News found that a large majority of the general public opposes paying salaries to college athletes beyond what they currently receive in scholarships: just 33 percent support paying college athletes, with 64 percent opposed.
Posted-In: ABC News BIA/Kelsey comments Farrah Parker Mark FratrikNews Events General Best of Benzinga
View Comments and Join the Discussion!