Benzinga's M&A Chatter for Thursday March 27, 2014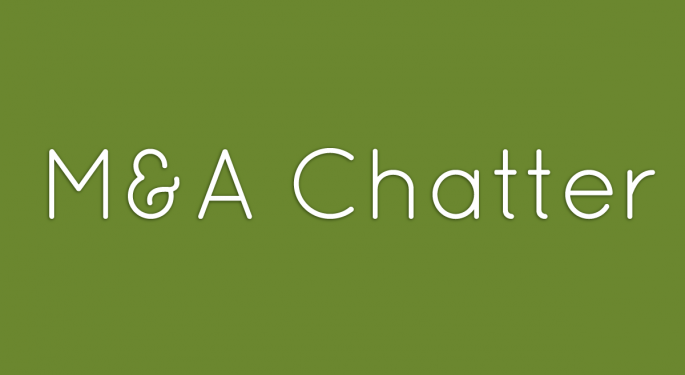 The following are the M&A deals, rumors and chatter circulating on Wall Street for Thursday March 27, 2014:
Yongye Receives Amended Going Private Proposal at $7.00/Share
The Offer:
Yongye International (NASDAQ: YONG) announced Thursday that the Special Committee of its board of directors has received a revised proposal dated March 26, 2014 from a Buyer Consortium, led by Zishen Wu, the Company's Chairman and CEO. Under the revised proposal, the Buyer Consortium proposed to increase the offer payable to holders of Yongeye common stock, from $6.69 to $7.00 per Share.
The Special Committee is considering the revised proposal with its legal and financial advisors.
Yongye International shares closed Thursday at $6.81, a gain of $0.01.
RGS Energy to Acquire Sunetric for $16M in Cash, Stock Deal
The Deal:
RGS Energy (NASDAQ: RGSE) has an agreement to acquire solar firm Elemental Energy, operating under the Sunetric brand, for total consideration of $16 million, including $7 million in cash and $9 million in unregistered Class A common stock, along with an additional $3 million in potential earn-out payments. The deal is expected to close in Q2 2014.
RGS Energy closed Thursday at $3.80, a loss of 2%.
Intel Makes Investment in Cloudera
The Deal:
Intel (NASDAQ: INTC) and Cloudera announced Thursday, a significant equity investment from Intel, making it Cloudera's largest strategic shareholder and a member of its board of directors. This is the largest ever investment by Intel in data center technology. No financial terms were mentioned.
As part of the collaboration, Cloudera will develop and optimize Cloudera's Distribution including Apache Hadoop (CDH) for Intel architecture as its preferred platform and support a range of next-generation technologies including Intel fabrics, flash memory and security. In turn, Intel will market and promote CDH and Cloudera Enterprise to its customers as its preferred Hadoop platform.
Intel shares closed Thursday at $25.31, a loss of $0.07.
.
View Comments and Join the Discussion!