Klipfolio Waited 13 Years To Raise $1.7 Million: Here's Why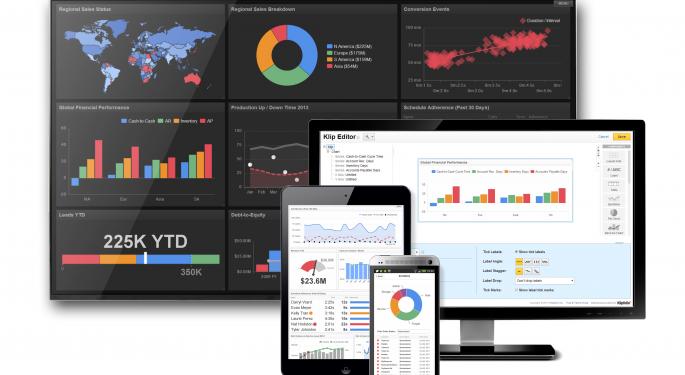 At first glance, Klipfolio might seem like a brand-new startup.
The company just announced its first significant raise of $1.7 million. This is a common move for companies that were started 13 months ago, but Klipfolio (which created an online dashboard platform) is different. It was launched as another firm, Serence, 13 years ago.
"We could have easily said, 'We're just going to continue organically,' and we're probably going to continue doing a 2X multiple year-over-year," Allan Wille, co-founder, President and CEO of Klipfolio, told Benzinga. "But the thought really was, 'Should we investigate, if we were to take some external funding, what could we do to that multiple?'"
Klipfolio ran the numbers, talked to some investors (both in the United States and in the company's birthplace of Ottawa, Canada) and saw the potential results.
Related: Why Do Startups Brag About How Much Money They Raised?
"We talked to a number of investors both here in Ottawa and in the States, and the models were clearly showing that if we took some funding on we could further accelerate our roadmap," said Wille. "We could accelerate the on-boarding of customers, we could increase a couple of our metrics, so that the organic two-times growth rate could probably turn into a three- or four-times growth rate over the next couple of years."
13 Years In The Making
When Wille pitched Klipfolio's plans in Boston, one investor stood up and asked, "What took you so long?"
"At the end of the day, it's not, 'What took you so long?' -- it's more, 'Was the timing right?'" said Wille. "We didn't have the right numbers. We didn't have the right metrics. We didn't have the right churn rate. We didn't have a model that we could easily pour money in the top and see huge returns out the other end."
Wille said that it was, ultimately, a game of patience.
"We absolutely cannot go out and raise funds unless we have something that is worth raising for," he insisted. "I think we did exercise a tremendous amount of patience. I think we watched our numbers properly. I think this is advice to any startup: if you're going to go and raise funds, you've got to have the evidence -- and the evidence has to be rock-solid. The statistics are not in favor of most startups raising funds."
While many startups are promising and exhibit a ton of energy, Wille said a number of them just don't have the evidence to get a successful raise.
"I think that the fact that we have some years under our belt -- and, perhaps more importantly, that we waited until we had a product that was really showing us the numbers and then we decided to go out -- I think that had a huge, huge impact on the final outcome of this fundraising exercise," Wille added.
Disclosure: At the time of this writing, Louis Bedigian had no position in the equities mentioned in this report.
Posted-In: Allan Wille Klipfolio SerenceNews Success Stories Startups Tech Interview Best of Benzinga
View Comments and Join the Discussion!