Google Honors Activist Dorothy Height & Her Contributions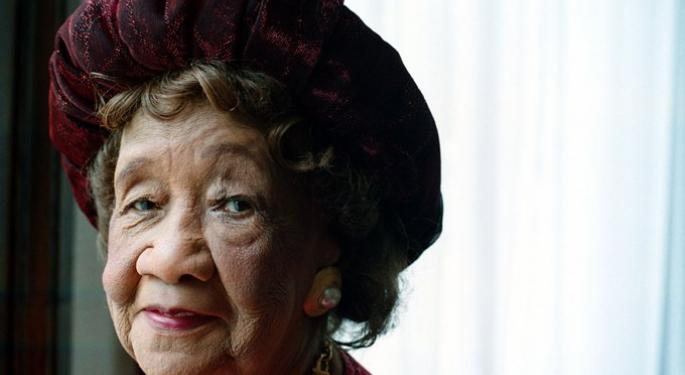 Monday's Google Doodle honors the life of Dorothy Irene Height who would've celebrated her 102nd birthday today, March 24, 2014.
Many honor this civil rights and women's right activist and the changes she helped make possible for minorities in the workspace.
Summary of Dorothy Height's Life
Dorothy Height was born on March 24, 1912 in Richmond, Virginia.
Height applied and was accepted to Barnard College in New York, which rescinded its offer at the beginning of the school year saying that they has already met their quota for black students.
She applied to New York University where she earned a bachelor's degree in education in 1930 and a master's degree in psychology in 1932.
Height worked as social worker prior to joining the staff if the Harlem YWCA in 1937. She met Mary McLeod Bethune, educator and founder of the National Council of Negro Women, and First Lady Eleanor Roosevelt when they came to visit the facility.
At the YWCA, Dorothy Height directed the integration of all its centers and established the Center for Racial Justice, which she ran until 1977.
She became the president of the National Council of Negro Women and became a leading figure of the Civil Right's Movement.
Height worked on different campaigns and initiatives with Martin Luther King Jr., A. Philip Randolph, Roy Wilkins, Whitney Young, John Lewis and James Farmer.
In 1971, Dorothy Height helped found the National Women's Political Caucus with Gloria Steinem, Betty Friedan and Shirley Chisholm.
She organized the first Black Family Reunion in 1986 to celebrate traditions and values, which is still held annually.
Dorothy Height received the Presidential Medal of Freedom by President Bill Clinton in 1994.
In 2004, President George W. Bush awarded her the Height of Congressional Gold Medal.
Height passed away on Washington, D.C. on April 20, 2010.
Diversity in Today's Workplace
Due to the great contributions of Dorothy Height and many others, we have greater diversity and freedom. Many companies are now stressing the diversity of their workforce and the intent to continue to hire minorities.
globalpost.com emphasized the benefits of diversity in the workplace in the article "Why is Diversity in the Workplace Important to Employees?". Some of the benefits mentioned include increased growth, improved workforce quality and decreased turnover.On January 27, blacknews.com published its list of the "Top 10 Companies Looking to Hire Blacks and Minorities in 2014 For Internships... and Jobs". The top ten companies include Allstate Insurance (NYSE: ALL), PricewaterhouseCoopers, Dell, Oracle (NYSE: ORCL), Microsoft Corporation (NASDAQ: MSFT), General Motors (NYSE: GM), Merck & Co. (NYSE: MRK), Coca-Cola (NYSE: KO), NASCAR, and Google (NASDAQ: GOOG).
Diversityinc.com publishes a list of the top companies for Diversity. DiversityInc Top 50 list began in 2001 in which companies participate to receive a report card on the talent pipeline, equitable talent development, CEO/ leadership commitment, and supplier diversity.
The top ten on this list includes Sodexo, PricewaterhouseCoopers, Kaiser Permanente, Ernst & Young, MasterCard (NYSE: MA), Novartis Pharmaceuticals (NYSE: NVS), Procter & Gamble (NYSE: PG), Prudential Financial (NYSE: PRU), Accenture (NYSE: CAN), and Johnson & Johnson (NYSE: JNJ). The 2014 DiversityInc Top 50 will be announced on April 22, 2014.
Posted-In: blacknews.com diversityinc.com Dorothy Height globalpost.comNews Topics Media General Best of Benzinga
View Comments and Join the Discussion!