Arizona Wooing Tesla With Possible Direct Sales Law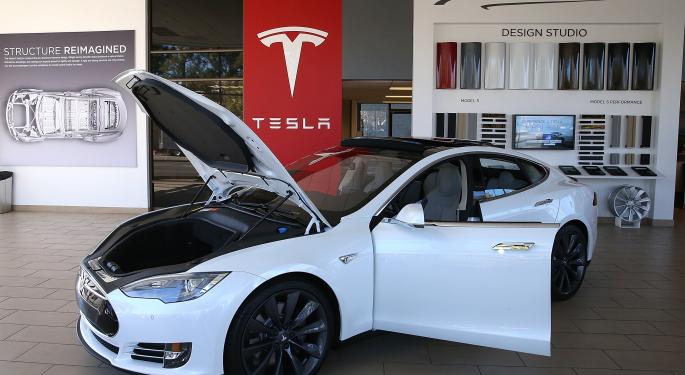 Arizona wants Tesla (NASDAQ: TSLA) to build its $5 billion Gigafactory inside The Copper State. Because of that, lawmakers last week began pushing a bill to give the company the right to sell its electric cars directly to consumers rather than through dealerships, according to CNNMoney.
Four southwestern states have been vying to be home to Tesla's massive battery production center, which the company said would employ up to 6,500 workers. In addition to Arizona, other states in the running included Texas, Nevada and New Mexico.
Although Tesla has showrooms in 23 states, the company has been allowed to sell directly to consumers without going through a dealer in only four of them – California, Colorado, Virginia and New Hampshire. Selling vehicles direct is illegal in most states, thanks to a powerful automobile dealer lobby.
Related: Elon Musk: $35,000 Tesla Coming In Three Years
Republican Warren Petersen of the Arizona state house sponsored the bill designed to encourage Tesla to build its factory there. Petersen told CNN, "We wanted to send a message that Arizona is open for business."
Petersen's bill, he said, would have "a very small impact" on the state's auto market, since it would apply only to electric cars. Although the powerful auto dealers' lobby objects to any change in the law, some others would like to allow manufacturers of all types of vehicles to sell their cars and trucks direct to the public.
Currently, of the four states vying for the Gigafactory, Arizona and Texas do not allow direct sales. Nevada's dealership law, CNNMoney said, was under dispute. Tesla has no showrooms in New Mexico.
Meanwhile, the battle raged on. From the perspective of automobile dealers, allowing Tesla to sell directly to the public, instead of through dealers, would begin a slide down a slippery slope in which dealers would eventually be cut out of car sales entirely.
Moreover, dealers argue, if only manufacturers sold to consumers, prices would be fixed, and consumers would lose. Tesla argued that it needs to be able to sell direct as part of educating consumers about the new technology and also to protect what it believed would be razor thin margins in order to be competitive.
As Arizona lawmakers prepared to open the door to direct sales, The Associated Press reported on the current Ohio version of the direct sales fight. Thanks to efforts of Governor John Kasich, Tesla has been able to sell its vehicles from two Columbus-based showrooms. Dealers are petitioning courts to shut down the operation.
At the time of this writing, Jim Probasco had no position in any mentioned securities.
Posted-In: arizona California Colorado Columbus Elon MuskNews Events Media Best of Benzinga
View Comments and Join the Discussion!