Benzinga's Weekend M&A Chatter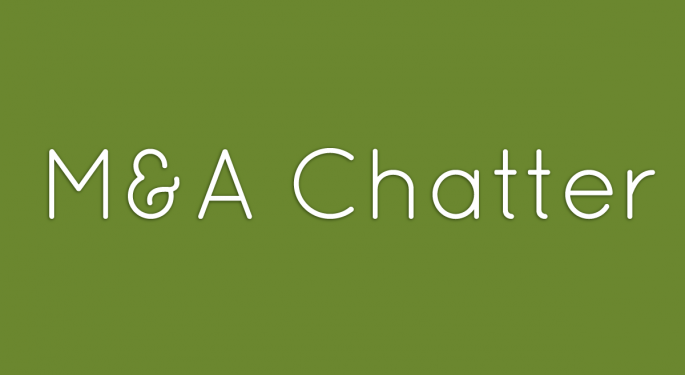 The following are the M&A deals, rumors and chatter circulating on Wall Street for Friday March 21 through Sunday March 23, 2014:
Media General, LIN Media to Merger in Cash, Stock Deal Worth $1.6B
The Deal:
Media General (NYSE: MEG) and LIN Media (NYSE: LIN) announced Friday, an agreement, under which LIN shareholders will receive approximately $27.82 per share, for a total consideration of $1.6 billion. LIN shareholders will receive for each LIN share, at their election, $27.82 in cash or 1.5762 shares of a new holding company, Media General, subject to proration.
Media General shareholders will receive one share of the new holding company, Media General, for each share of Media General that they own upon closing.
The deal is expected to close in early 2015, and includes a "window-shop" period through April 25, 2014,
LIN Media shares closed Friday at $26.32, a gain of 22%. Media General shares closed at $17.44, a gain of $0.10.
MSG Takes 50% Stake in Robert De Niro's Tribeca Enterprises
The Deal:
Madison Square Garden (NYSE: MSG) and Tribeca Enterprises, owner of the Tribeca Film Festival, announced Saturday that MSG has purchased a 50 percent interest in the company, that values Tribeca Enterprises at $45 million.
Tribeca Enterprises was founded in 2003 by actor Robert De Niro and CEO Jane Rosenthal.
Madison Square Garden closed Friday at $58.32 a loss of $0.41.
Nortek Acquires Thomas & Betts' HVAC Business for $260M
The Deal:
Nortek (NYSE: NTK) announced Friday it has signed an agreement to acquire the HVAC business of Thomas & Betts for approximately $260 million in cash transaction. Thomas & Betts' HVAC business includes Reznor Manufacturing Company, LLC (U.S.), AmbiRad Ltd (U.K.), Reznor Europe, N.V. (Belgium), Gaz Industrie S.A.S. (France) and manufacturing operations in Monterrey, Mexico.
The deal is expected to close in Q2 2014.
Nortek closed Friday at $81.25, a gain of almost 3%.
View Comments and Join the Discussion!