Penny Stock Kraig Biocraft Advances Spider Silk, Eyes $5 Billion Industry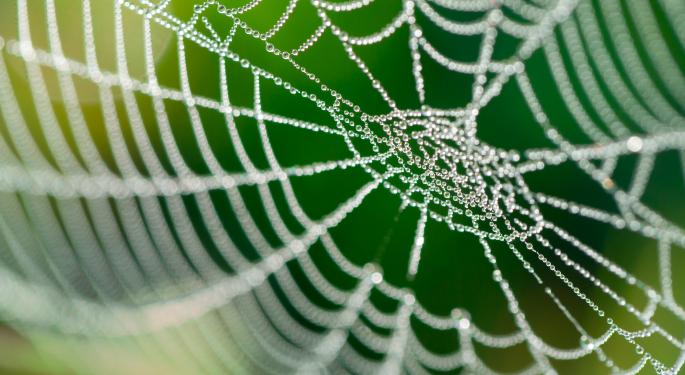 Most people don't want a spider crawling down their back, but would they be willing to wear a shirt made from spider silk?
Kim Thompson, the founder and CEO of Kraig Biocraft Laboratories (OTC: KBLB), hopes that the answer is yes -- especially when consumers learn that the silk will actually be made by silk worms.
Thompson founded his company with the goal of using existing production machinery (which includes the domesticated silk worm) to produce silk from the Golden Orb-Weave Spider.
"I ultimately made an agreement with the University of Wyoming to license the gene sequences to make this happen, and I entered into agreements with the University of Notre Dame, who had the scientists and the technical ability to actually perform the genetic sequencing," Thompson told Benzinga. "That's how the company was founded. All of the scientific work, genetic engineering work, is being done on campus in the University of Notre Dame, or in a small laboratory that we maintain adjacent to the campus."
Related: 5 Essential Rules For Penny Stock Investing
Thompson insists that his system works. He said that his team has created "numerous transgenic genetically modified silk worms using spider silk DNA," which causes the silk worms to produce spider silk.
"What we're doing is basically taking these genes, inserting them in such a way that the silk worm produces the spider silk proteins in its silk glands, and then extrudes them as a recombinant genetically modified spider silk," said Thompson.
In addition to spider silk, the silk worms also continue to produce their own normal silk proteins. This has allowed Kraig to develop two fusion materials: Big Red and Monster Silk. Both are stronger than traditional silk, and both have the opportunity to be used for the development of protective/armored materials, among other things.
"The first applications are the ones that people aren't thinking about," said Thompson. "Those are the mundane applications. Right now, normal silk, at the raw fiber level, is about a $5 billion industry. Our silk is identical in cost structure to normal silk. Our silk worms are the same as regular silk worms except they spin a much stronger, better fiber."
And how could this be applied to everyday use?
"I think a few years down the road you're going to find silk shirts, silk dresses [and] silk panties…made out of [this silk], because frankly it's a better material," said Thompson. "If you look at the breakdown of silk consumption, most silk is produced in Asia, most silk is consumed in Asia. In many of these cultures, there is, frankly, a reverence for the predator, not the prey. I think that in terms of branding, the spider wins out over the moth."
Related: 9 One-Time Penny Stocks Didn't Stay That Way
Low-Hanging Fruit
Thompson referred to the raw materials aspect as "low-hanging fruit." He said it's not high-tech or sexy -- but it is money on the table.
"And we intend to scoop up as much of that as we can," said Thompson.
"The more high-tech applications have yet to be proven. We haven't had enough material produced in the lab to show what this new material can do. I'm tempted to say the sky's the limit -- with some caveats."
Thompson theorized that spider silk could be used for ballistic protection, vests, armor and other areas other areas where high-strength, high-resilient materials are needed (sporting gear, fishing line, exotic cables, etc.).
Disclosure: At the time of this writing, Louis Bedigian had no position in the equities mentioned in this report.
Posted-In: Golden Orb-Weave Spider Kim Thompson Kraig Biocraft Laboratories silk wormNews Success Stories Tech Interview Best of Benzinga
View Comments and Join the Discussion!