Investor Beware: Despite The Myths, Franchises Can Fail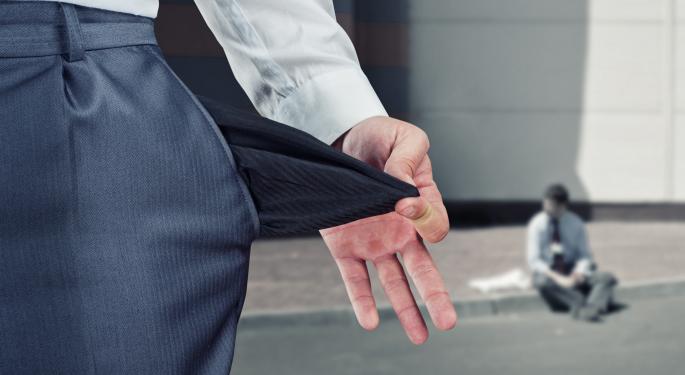 The recent Chapter 11 filings of two national restaurant chains, Sbarro and Quiznos, are drawing new focus on the opportunities and challenges faced by franchises.
U.S. Census Bureau data from 2007 showed franchise businesses employed over 58 million U.S. residents, while bringing in revenues, sales, shipments or receipts of over $7.6 billion.
And while a global recession has come and gone in the ensuing years, franchise businesses remain a big part of the American corporate landscape. The leaner economy, however, reportedly opened up some deals for people looking to get into a franchise – such as deferred payments and promotional incentives.
But whether it's a restaurant, hotel, auto service shop or retail store, franchising is not without its financial perils. A 2002 study by the U.S. Small Business Administration found franchises accounted for over one-third of all retail sales. But it also noted that, contrary to popular belief, the failure rate of franchisees was greater than that of independent businesses.
Related: 8 Lessons Executives Can Learn From 'House Of Cards'
"Even if the success rates were true, focusing on franchising as a path to riches instead of small-business ownership has caused the industry to evolve in ways detrimental to franchisees," Robert Purvin, author of 1994 book, The Franchise Fraud, told Entrepreneur Magazine last year. "They've become less and less protective of franchisees over the years."
Quiznos, for example, has been the target of multiple lawsuits by franchisees, who say the company overcharged them for food and supplies as part of their required purchases from the franchise.
And other franchise industry observers say many new franchisees are lured into the business with the belief they can't fail – and that the businesses are properly regulated.
"But the regulations are very, very soft, nothing to it," says Don Sniegowski, the editor of Blue MauMau, a news site for franchise owners.
Attorneys and experts have written books about how these regulations are traps for the trusting," he tells Benzinga. "In other words, it looks like there's something there, but there's really nothing."
Sniegowski also points to the issue of franchise disclosure documents (FDDs) – which are supposed to protect the public by providing information about the franchise company. FDDs were approved in the mid 1990s by the Federal Trade Commission and are required in at least 11 states, and have been updated in recent years.
But those FDDs, Sniegowski says, tend to be produced by the franchise's marketing and sales people.
"So it's a pre-sales document," he says. "And of course (the companies) don't want it audited, (they) will volunteer the information to a buyer and it's their job to verify and do their due diligence. If they can't catch us lying, well shame on them."
Sniegowski says investors looking to buy into a franchise must be adversarial, and realize they're the ones bringing money to the table. And if you don't have enough information from the franchise, he warns, "then walk away."
Posted-In: News Entrepreneurship Restaurants Events Economics Startups Small Business Media Best of Benzinga
View Comments and Join the Discussion!