Benzinga Weekly Preview: Share Markets Have A Tough Road Ahead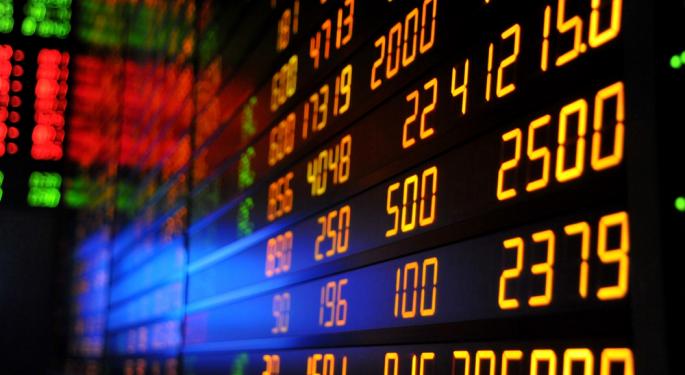 Equity markets have taken a beating recently, and the trend looks set to continue next week.
With economic data thin next week, the standoff between the West and Russia is likely to drive prices. Moscow has ramped up its military presence in and around Ukraine and Crimea being annexed over the weekend is looking more and more probable.
Key Earnings Reports
Next week investors will be waiting for several key earnings reports including FedEx Corporation (NYSE: FDX), Oracle Corporation (NASDAQ: ORCL), Nike, Inc. (NYSE: NKE), General Mills, Inc. (NYSE: GIS), and Jabil Circuit, Inc. (NYSE: JBL).
FedEx Corporation
FedEx is expected to report third quarter EPS of $1.54 on revenue of $11.46 billion, compared to last year's EPS of $1.23 on revenue of $10.95 billion.
Merrill Lynch has a Buy rating on FedEx with a $162.00 price objective on March 14. The analyst team at Merrill Lynch took the severe winter into account for its third quarter predictions but said the company's profit improvement plan will likely offset the decline.
"Over the past 15 years, FedEx has averaged a 33% sequential decline in EPS between F2Q and F3Q. We forecast a slimmer 10% decline in F3Q14, post weather impact, given the ongoing benefit from its $1.7 billion profit improvement plan. It noted that of its 3,600 employees that are leaving the workforce, 75% are already off the payrolls, having left in waves on May 1, August 1, and November 1, 2013, with the remaining 25% set to leave at the end of May 2014. Its remaining programs are on track for F'15 and F'16 benefits, putting it on schedule to reach its profit improvement target as it exits F2016."
On March 8, S&P Capital IQ has a Buy rating on FedExwith a $180.00 price target. The firm also cited the company's profit improvement program as a reason for its optimism.
"We are positive on FDX's profit improvement program, which seeks to add $1.7 billion to operating income by FY 16, with up to 75% of this target expected to be achieved by FY 15.We think the goal is realistic, using a combination of cost savings, efficiency improvements and incremental revenue-generating ideas. We also expect the company to benefit from improvement in the U.S. and global economies over the next year, which we believe will lead to increased volumes across FDX's entire network. We think the shares will benefit from increased investor interest in logistics stocks on concrete signs of economic improvement."
Oracle Corporation
Oracle is expected to report third quarter EPS of $0.70 on revenue of $9.36 billion, compared to last year's EPS of $0.65 on revenue of $8.97 billion.
Deutsche Bank has a Buy rating on Oracle with a $45.00 price target on January 22, saying that the company's software business was giving the company momentum.
"In a nutshell, Oracle is only investable if its core database software business is tracking well, which it is, growing at a high single-digit clip while the core businesses of other mega-cap technology firms are struggling with zero growth given the twin forces of commoditization and price deflation. In our view, the new open source database alternatives are not body-checking Oracle just yet, Exadata sales are solid and a new 12c database launch adds zest to the fiscal 2015 outlook."
Nike, Inc.
Nike is expected to report third quarter EPS of $0.72 on revenue of $6.70 billion, compared to last year's EPS of $0.73 on revenue of $6.19 billion.
Nomura has a Buy rating on Nike with an $85.00 price target on February 13. The firm cited the company's potential for continued revenue growth as the reason for its positivity.
"Our outlook for the shares is positive owing to our expectation for continued high-single-digit revenue growth, recent trends of accelerating futures, prospects for continued gross margin recovery, and an underappreciation for the upside existing in the women's business. In addition to top-line growth and visibility, NIKE is tracking toward regaining its peak gross margin of 46.3% (achieved in FY10), almost 200bps above our current year estimate of 44.4%. 2014E / 2015E Revenues: $27,616mn $30,058mn vs. Street at $27,758mn / $30,184mn. FY14E EPS at $3.00; FY15E EPS at $3.50."
S&P Capital IQ also has a Buy rating on Nike with an $86.00 price target on March 8. The analysts at S&P said the company's growth in North America and Europe would continue to propel revenue.
"We see revenues from continuing operations reaching $27.84 billion in FY 14 (May), driven by growth in North America and Europe. NKE sold its Umbro business to Iconix Brand Group for $225 million in November 2012, and its Cole Haan business to Apax Partners for $570 million in February 2013.We perceive strong global demand for the Nike brand due to its established reputation for product innovation, quality and value, as well as time-tested authenticity. We also perceive strong growth momentum in the Converse brand, which contributed $1.45 billion of revenues in FY 13. However, we see the company's top-line results being impacted by foreign currency headwinds (Japan and emerging markets) and Nike brand repositioning in China."
General Mills, Inc.
General Mills is expected to report third quarter EPS of $0.68 on revenue of $4.46 billion, compared to last year's EPS of $0.64 on revenue of $4.43 billion.
Credit Suisse has a Neutral rating on General Mills with a $51.00 price target on February 18, citing worries about the company's aggressive investment in international markets.
"As management invests more aggressively in international markets, we fear that the negative impact on margins and ROIC will slow the pace of earnings growth and shareholder value creation. Some simple math: US Retail margins are 23% and International margins are only 9%. At current rates of top-line growth, margins will fall by 70 bps and op profit will grow less than 3% over the next four years unless International margins improve or US Retail sales re-accelerate. Management put enormous emphasis on its intentions to expand internationally indicating that it had broken ground on a yogurt manufacturing site in China and that it is evaluating potential acquisitions in North Africa and India. The Yoki acquisition in Brazil has exceeded expectations by growing 19% to $1 billion in sales and expanding gross margin 200 bps. They are even experimenting with new platforms that utilize the Betty Crocker brand name in baking mixes and evoke the Hamburger Helper concept in dry dinners."
Morgan Stanley has an Underweight rating on General Mills with a $48.00 price target on January 14. The analysts at General Mills are concerned about the company's recent US sales trends.
"Mills' US sales should continue to lag peers, and its guidance for ~10% EBIT growth in 2H14 may prove optimistic. With LTM stock performance driven largely by re-rating and few supportive catalysts, we view Mills' relative risk/reward as among the least compelling in Food; downgrading to UW. We see US sales trends range-bound at 1-2%, with below-average categories (even including yogurt) and mixed share trends (yogurt, meals). We also doubt a near-term inflection in ready-to-eat cereal consumption, and believe innovation alone is insufficient (as during past two years) to accelerate growth."
S&P Capital IQ has a Hold rating on General Mills with a price target of $51.00 on March 14. S&P noted that although the near term looked troublesome for GM, the company could see EPS growth in the future.
"We are keeping our 12-month target price of $51, reflecting a P/E of 18X, slightly below peers, applied to our FY 14 (May) EPS estimate of $2.85. GIS see's Feb-Q adjusted EPS of $0.61-$0.62, below our $0.68 estimate. Sales are being negatively impacted by lower volumes and unfavorable forex. Also, margins are being pressured by increased marketing and merchandising investment in an effort to drive demand. Despite an adverse near term environment, we look for EPS growth in May-Q to be aided by easing comparisons and share repurchases. The indicated dividend yield is about 3.1%"
Jabil Circuit, Inc.
Jabil Circuit is expected to report second quarter EPS of $0.11 on revenue of $3.62 billion, compared to last year's EPS of $0.53 on revenue of $4.42 billion.
Merrill Lynch gave Jabil a Buy rating with a $22.00 price objective on March 13, citing improving Apple business for its optimism.
"We slightly lower our estimates for the February quarter and lower our revenue and EPS estimates for the May quarter heading into F2Q earnings, primarily on lower expected revenue from E&I (Enterprise and Infrastructure) and DMS (Diversified Manufacturing Services). We maintain our Buy rating on Jabil as we expect the company to get back to a normalized earnings power close to $2 as the Apple business ramps in the back half of the year. However we expect relatively inline results (significantly lowered last quarter) for the next 2-3 quarters, which could create some short term downside volatility."
On January 14, Goldman Sachs upgraded Jabil to a Buy rating with a $20.00 price target. The analysts at Goldman see the company's EPS rising far above the current consensus in 2015 and 2016.
"We would Buy JBL now given: (1) EPS Power – While we expect near-term EPS to be very weak (downside risk to May quarter Street EPS), our analysis suggests EPS could reach $2.00-$2.60 in 2015 or 2016, well above the Street at $1.66/$2.08 in FY15/16, on a partial recovery at Apple (we assume at lower sales and margins), Nypro accretion, a buyback, restructuring,and new business using proceeds from AMS plus FCF and/or leverage. While we do not take a view on any specific deal, Jabil has stated it is evaluating strategic options. Jabil has a relatively high tax rate and offshore cash, and an international merger and reincorporation could have tax and capital allocation benefits. (2) Buy laggards – Buying quality EMS companies after severe weakness at large customers has historically led to outperformance (such as Plexus in 2013). Moreover, analysis from our tactical research team suggests laggards typically outperform in 1Q of the next year. (3) Valuation – We expect JBL to generate $2.00-$2.50 in FCF both this year and next (16% CY14 FCF yield) and it is the least expensive EMS stock on 2015 EV/EBITDA at 3.5X."
On March 8, S&P Capital IQ has a Hold rating on Jabil Circuit with a $16.00 price target, citing concerns about declining revenue for its caution.
"Our hold opinion is based on our concerns about near-term revenue declines. We point to unfavorable statements from two key customers. Further, we see increased risk, as Apple will account for a large portion of total sales after the BlackBerry loss and AMS sale. Over the long term, we believe that the company's success in new and less-cyclical markets will help support sales and margin growth. We are positive on the acquisition of Nypro Inc., which supplies the Healthcare, Packaging, and Consumer Electronics verticals. We expect JBL to use the $725 million ($675 million in cash) proceeds from the AMS sale for share repurchases and acquisitions."
Economic Releases
Economic data will be thin next week, though investors will continue to focus on the US and Europe for clues about the two nation's central banks' upcoming meetings. In the eurozone, investors are becoming wary of the euro's rising strength and wondering if the ECB will intervene in April. In the US, investors are wondering if the nation's recent spate of poor economic data was due largely to the severe winter or if it reflects the country's slowing momentum.
Daily Schedule
Monday
Earnings Releases Expected: JA Solar Holdings, Co., Ltd. (NASDAQ: JASO), FutureFuel Corp (NYSE: FF), Lan Chile S.A. (NYSE: LFL)
Economic Releases Expected:  US industrial production, eurozone CPI, Chinese house prices
Tuesday
Earnings Expected: DSW Inc. (NYSE: DSW), Mobile TeleSystems (NYSE: MBT), Oracle Corporation (NASDAQ: ORCL), Adobe Systems Incorporated (NASDAQ: ADBE)
Economic Releases Expected: Japanese trade balance, New Zealand current account, US Redbook, US CPI, US housing starts, German ZEW economic sentiment, Italian trade balance
Wednesday
Earnings Expected: General Mills, Inc. (NYSE: GIS), FedEx Corporation (NYSE: FDX), Jabil Circuit, Inc. (NYSE: JBL)
Economic Releases Expected:  New Zealand GDP, US oil inventory data, US current account, British unemployment rate
Thursday
Earnings Expected From: Nike (NYSE: NKE), ConAgra Foods, Inc (NYSE: CAG), Scholastic Corporation (NASDAQ: SCHL), Shoe Carnival, Inc. (NASDAQ: SCVL), The Wet Seal, Inc. (NASDAQ: WTSL)
Economic Releases Expected: US existing home sales, British retail sales, German PPI, Swiss trade balance
Friday
Posted-In: CrimeaNews Previews Global Economics Federal Reserve Pre-Market Outlook Trading Ideas Best of Benzinga
View Comments and Join the Discussion!