Benzinga's M&A Chatter for Monday March 10, 2014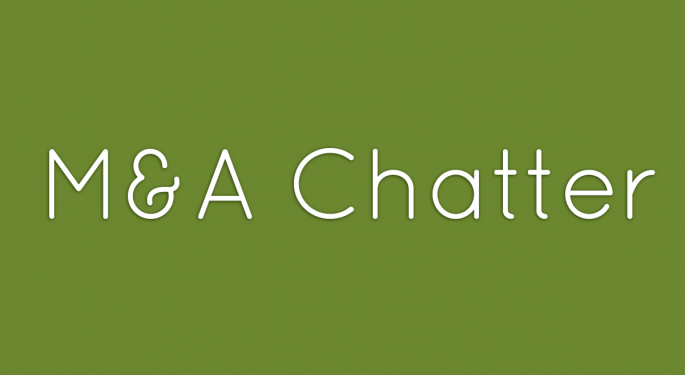 The following are the M&A deals, rumors and chatter circulating on Wall Street for Friday March 7 through Sunday March 9, 2014:
Chiquita Brands, Fyffes to Combine in $1.07B Merger Deal
The Deal:
Chiquita Brands (NYSE: CQB) and Fyffes (OTC: FYFFF) announced Monday that the two companies will combine in a stock-for-stock deal that is expected to result in Chiquita shareholders owning approximately 50.7% of ChiquitaFyffes, and Fyffes shareholders owning approximately 49.3% of ChiquitaFyffes. The transaction will result in a combined equity value of approximately $1.07 billion.
The deal is expected to close before the end of 2014.
Chiquita Brands closed Friday at $12.00, gaining alomost 11%.
Minerals Technologies to Acquire AMCOL for $45.75/Share in Cash
The Deal:
Minerals Technologies (NYSE: MTX) and AMCOL International (NYSE: ACO) announced Monday that they have agreed that Minerals Technologies will acquire AMCOL for $45.75 per share in cash, for a total value of approximately $1.7 billion. The deal is expected to close in H1 2014.
AMCOL terminated its merger agreement with Imerys (OTC: IMYSF), whose offer was $45.25 per share. AMCOL paid Imerys` U.S. subsidiary a termination fee of $39 million.
AMCOL closed Friday at $45.71, a loss of 2%.
Montage Tech Receives Non-Binding Proposal from Shanghai Pudong Science of $21.50/Share
The Offer:
Montage Technology (NASDAQ: MONT) announced Monday that its Board of Directors received a preliminary non-binding proposal letter, dated March 10, 2014, from Shanghai Pudong Science and Technology Investment Co., whereby, PDSTI proposed to acquire all of Montage's outstanding ordinary shares at a price of $21.50 per share in cash.
The Board is reviewing the proposal.
Montage Technology closed Friday at $20.66, a gain of 20%.
View Comments and Join the Discussion!