4 Things You Need To Know About Michigan's Scrap Metal Bill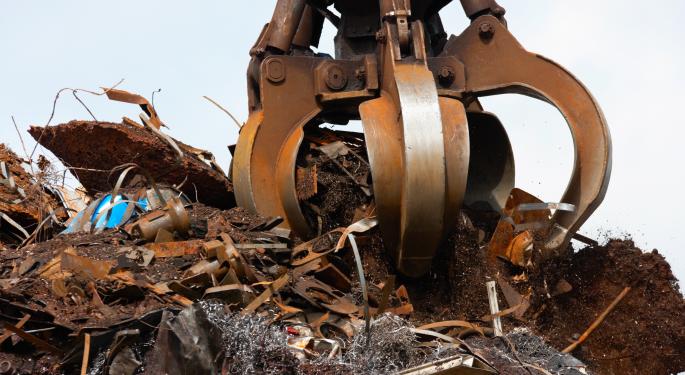 Michigan, one of the top exporters of copper to China, has seen a drastic increase in scrap metal theft over the past few years.
The often-unmarked metals are difficult to track, leaving a lack of evidence for law enforcement to use when prosecuting illegal scrappers.
To deter criminals, State Representative Paul Muxlow introduced House Bill 4593 last year to beef up laws on how scrap metal transactions are handled.
Here's what you need to know about it.
Delayed payment for certain items
The legislation calls for a three-day delay in payment on catalytic converters, air conditioners and copper wire. This means dealers would be required to withhold payment for three business days after the transaction. Michigan Association of Chiefs of Police Executive Director Robert Stevenson told Benzinga the delayed payment is the key provision of the legislation. Scrap metal theft is often related to other crimes like illicit drug activity, and the removal of instant payment will discourage drug users and others looking for quick cash.
See also: 4 Reactions To The Michigan Scrap Metal Bill
"Another benefit of the three-day delayed payment is that it will allow law enforcement a short window to locate a suspect in a scrap metal theft," Stevenson said.
The delay would not apply to commercial or industrial customers.
No more 'green money'
All cash transactions would be eliminated. Scrap metal dealers are restricted to paying the seller by direct deposit or mailing a check for items that are included in the three-day delay.
For transactions that aren't subject to the delayed payment, the dealers are still limited to paying sellers by check, money order or electronic payment card.
"So, no green money," Muxlow told Benzinga.
Prohibition of certain types of property
The bill would not allow people to sell or buy certain types of personal property. Public fixtures would be banned, unless being sold by the government or with authorization from the government unit that owned the property. This includes, but isn't limited to, street light fixtures, guardrails, traffic signs, traffic light signals and historical markers.
Metals or materials that are clearly marked as belonging to someone else, cemetery-related or ceremonial articles, and metal removed from railroad-owned property would also be prohibited.
Detailed purchase transaction records
Scrap metal dealers would be required to maintain "accurate and legible" records of each purchase. In addition to the information that's already required, dealers would need to record the name and address of both the seller and the person delivering the scrap metal (if different from the seller). The name of the scale operator who weighs and inspects the scrap metal, as well as the name of the employee who purchases the material, would also need to be recorded.
In addition, the bill calls for a photograph or digital, electronic or video image of the scrap metal.
Posted-In: Detroit House Bill 4593 michigan Paul Muxlow Robert StevensonPolitics Legal General Best of Benzinga
View Comments and Join the Discussion!