Benzinga's M&A Chatter for Thursday March 6, 2014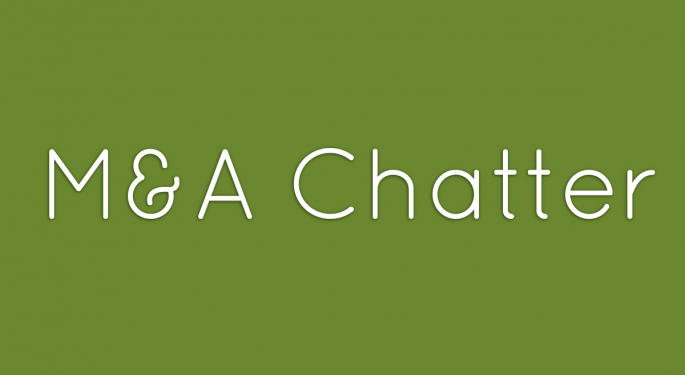 The following are the M&A deals, rumors and chatter circulating on Wall Street for Thursday March 6, 2014:
Cerberus Acquires Safeway Through Merger with Albertson's in $40/Share Cash, Stock Deal
The Deal:
Safeway (NYSE: SWY) and Albertson's announced Thursday, an agreement under which Albertson's owner AB Acquisition, will acquire the outstanding shares of Safeway for $32.50 per share in cash, plus shareholders will have the right to receive pro-rata distributions of net proceeds from primarily non-core assets with an estimated value of $3.65 per share.
AB Acquisition includes Cerberus Capital Management, Kimco Realty (NYSE: KIM), Klaff Realty LP, Lubert-Adler Partners LP, and Schottenstein Stores Corporation. The merger agreement includes an initial "go-shop" period of 21 days.
In a separate transaction, Blackhawk shares will be distributed in mid-April
Safeway closed Thursday at $39.47 and traded around $38.00 after-hours.
Fox Factory to Acquire the Assets of Sport Truck USA for Approximately $44M
The Deal:
Fox Factory (NASDAQ: FOXF) announced Thursday it has agreed to acquire the assets of distributor of aftermarket suspension solutions, Sport Truck USA, in an asset purchase transaction for approximately $44 million. The deal is expected to close by the end of March 2014.
Fox Factory closed Thursday at $16.92, a gain of $0.06.
ExOne Acquires MWT, Assets of Machin-A-Mation in Separate Transactions Totaling Almost $10M
The Deal:
The ExOne Company (NASDAQ: XONE) announced Thursday that it has acquired German industrial-grade microwave manufacturer, MWT, for $4.8 million in cash. ExOne also acquired the assets of specialty machine shop, Machin-A-Mation, located in Chesterfield, Michigan, for approximately $5.0 million.
ExOne closed Thursday at $43.18, a loss of 4.7%.
View Comments and Join the Discussion!