Mary Barra Takes Charge, Launches Internal Inquiry Into GM Recall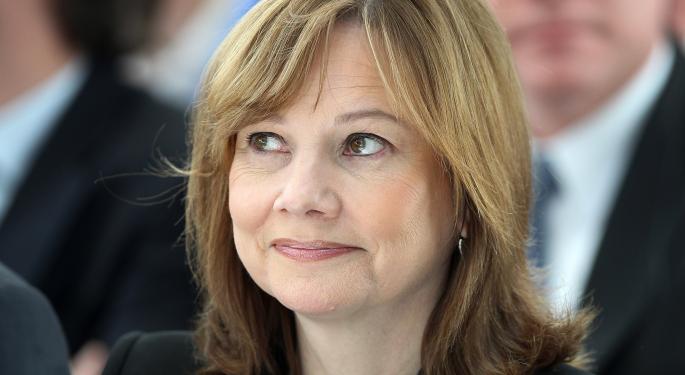 General Motors (NYSE: GM) CEO Mary Barra is leading an internal review of whether the company delayed a recall of 1.6 million vehicles.
In a letter to employees Tuesday, Barra said she would take an "unvarnished" look at how the process was handled. She said she is leading a group of senior executives to "direct our response, monitor our progress and make adjustments as necessary," according to USA Today.
Senior Kelley Blue Book analyst Karl Brauer said Barra's history at GM had her involved in almost every aspect of running the company, including managing suppliers.
"This means her ability to understand the nature of this defect is as good or better than anyone else at GM," Brauer said in an email. "It also shows how seriously GM is taking the recall, as they should given the related fatalities."
GM is also questioning employees who were involved in the process from the start, Reuters reports.
The automaker said on Tuesday it received a 27-page list of 106 questions from the National Highway Traffic and Safety Administration regarding the way GM handled its recall of vehicles with faulty ignition switches. The Detroit-based company must respond by April 3.
Related: GM Expands Ignition Switch Recall, Cites 13 Deaths
Last week, NHTSA launched an investigation into how long it took the company to issue a recall. GM could face up to a $35 million fine if NHTSA decides the automaker delayed addressing the problem. Toyota was fined $48.8 million in 2010 for not fixing problems with uncontrolled acceleration in a timely manner.
Business as usual or failure of the system?
Brauer said there's no way to know at this point if GM should have acted sooner.
"The frequency of component failure that justifies a recall is different in every situation, though failures that cause obvious safety hazards are clearly more deserving of a recall at a much lower rate of failure," he said.
But automotive safety expert Byron Bloch disagrees.
"Clearly, GM knew for years, but kept the information from both NHTSA and the public that the problem was more serious than just a service update," Bloch told Benzinga.
According to Bloch, there is no question about the fact that NHTSA also could have moved more quickly in this situation.
"The nature of NHTSA is that they often need to be prodded by the media, by parents or family members of those who were either severely injured or killed," he said. "In other words, they wait for people to speak out and stir the pot."
Bloch said the recall system is very lethargic and too often politically manipulated by the car companies and their pals, when NHTSA should be more progressive and proactive.
But evidence suggesting a recall usually takes time to collect from a number of sources, Brauer said, so it can take time for NHTSA to identify the problem and its cause. He isn't sure if this is a failure of the system.
"Maybe," he said, "but it's still too early to know at this point."
Posted-In: Byron Bloch comments Kelley Blue Book Mary Barra NHTSA recallsNews General Best of Benzinga
View Comments and Join the Discussion!