Hybrids Could Be Next Big Thing According To Tablet Sales In 2013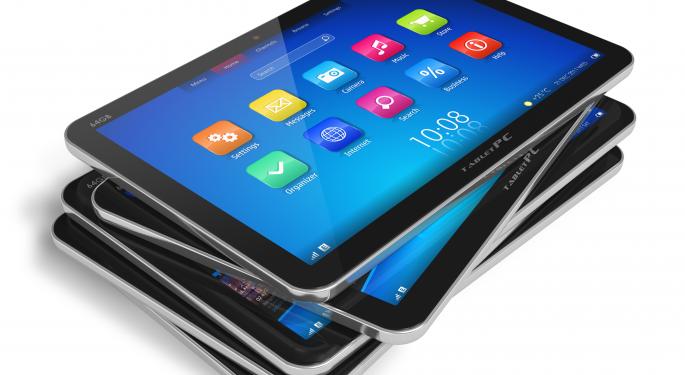 Worldwide tablet sales grew 68 percent through 2013, according to information technology research and advisory company, Gartner (NYSE: IT) in a report released Monday. Tablets, Gartner said, made up 90 percent of overall ultramobile sales in 2013. In addition to tablets, the ultramobile sector also includes clamshell devices and hybrids.
In terms of numbers, worldwide sales of tablets were 195.4 million units last year. Although sales of iOS tablets grew in Q4 2013, Apple's share of the space declined to 36 percent from 53 percent the year before.
Google  (NASDAQ: GOOG) Android tablets, on the other hand, took over first place with 62 percent of the overall market versus 46 percent in 2012. According to Gartner, this growth was mostly caused by sales of low-end small screen tablets and an influx of first time buyers.
Microsoft (NASDAQ: MSFT) with a little more than two percent share came in a very distant third, but that also represented sales more than triple the 1.2 million units sold in 2012 to more than four million in 2013.
Roberta Cozza, research director at Gartner said, "In 2013, tablets became a mainstream phenomenon, with a vast choice of Android-based tablets being within the budget of mainstream consumers while still offering adequate specifications. As the Android tablet market becomes highly commoditized, in 2014, it will be critical for vendors to focus on device experience and meaningful technology and ecosystem value — beyond just hardware and cost — to ensure brand loyalty and improved margins."
Related: Samsung's Latest Anti-Apple Weapon: The Galaxy S5
With Android all but taking over the low-cost sector of tablet sales, Apple faces increasing pressure to find ways to remain competitive in that space with its small screen iPad mini. According to Gartner's Cozza, "Apple's approach will continue to force vendors to compete with full ecosystem offerings, even in the smaller-screen market as the iPad mini sees a greater share."
As for Microsoft, according to Cozza, "To compete, Microsoft needs to create compelling ecosystem proposition for consumers and developers across all mobile devices, as tablets and smartphones become key devices for delivering applications and services to users beyond the PC."
Help could come from Lenovo given the fact the company's tablet sales grew 198 percent last year. Isabelle Durand, principal research analyst at Gartner said, "Lenovo's success is a combination of launching innovative new tablet models during the second half of 2013 and the sales of its Yoga model and Windows tablets doing particularly well."
Another vendor that could boost Microsoft sales is ASUS, which came in third in the vendor listings, behind first place Apple and second place Samsung. ASUS is noteworthy for its very popular Transformer Book T100 hybrid.
According to Cozza, "Although there were few models available last year, the hybrid form factor was the fastest growing category in 2013. Hybrid ultramobiles attracted users' attention because the keyboard offers better use of productivity applications and benefits from a tablet form factor."
At the time of this writing, Jim Probasco had no position in any mentioned securities.
Posted-In: Android Apple asus clamshellNews Events Tech Media Best of Benzinga
View Comments and Join the Discussion!