General Motors Continues Its Battle To Win The Chinese Market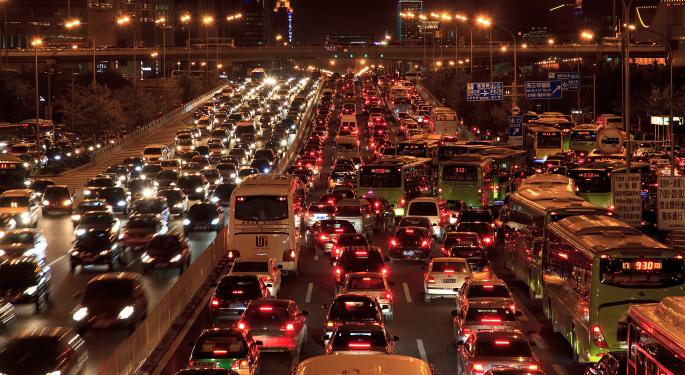 China is vital for General Motors (NYSE: GM). Afterall, the Detroit-based automaker sells more vehicles in China than any other country, including the United States.
When General Motors announced that February deliveries rose 20 percent, investors should find further conviction that the company is serious about winning back the title of being number one in the world's largest and most important auto market.
General Motors lost its coveted number one automaker spot in China to Volkswagen at some point in 2013.
According to a McKinsey study, sales of luxury vehicles in China are expected to reach 22 million in 2020, larger than either the European or North American markets. General Motors is aiming to sell more than 100,000 Cadillac vehicles by the end of 2014 compared to 50,000 units sold in 2013.
Related: Why Does Apple's CarPlay Exclude Pandora And Google Maps?
Big Three rivals
The battle for the Chinese market is fierce, with Ford (NYSE: F) a few steps behind General Motors. Ford admitted to being late to the party and only entered the Chinese market in 2002, almost a decade after General Motors entered. While sales of Ford vehicles have remained robust, the company is still struggling to understand the small but major differences in preferences the Chinese consumer has compared to an American consumer.
As an example, the Chinese consumer prefers more room in the back seat and a little bit more chrome on the front. David Schoch, president of Ford's Asian-Pacific region said that the company is now taking these Chinese wants into consideration.
General Motors plans to introduce 19 new or refreshed models in 2014. The company plans to invest $11 billion through 2016. Ford is planning to spend $5 billion in the country as part of a plan to double its production capacity by 2015. Ford's management dubbed its Chinese investments as its largest industrial expansion in at least 50 years.
New kid on the block
And then there is Tesla (NASDAQ: TSLA), who set its eyes on the Chinese market earlier this year. Tesla's electric vehicle Model S sedan will be sold at what the company considers to be a bargain at $120,000. "If we were to follow standard industry practice, we could get away with charging twice as much for the Model S in China as we do in the U.S.," Tesla wrote in a blog post.
The Chinese government has extended its subsidies on electric cars past 2015, a move which could help sales of Tesla vehicles. Tesla CEO Elon Musk said that China Model S sales could match those of the U.S. as early as 2015 and the company will eventually manufacture cars in China.
Posted-In: China Auto Sales Elon Musk Ford China General Motors China Tesla ChinaNews Global Economics Best of Benzinga
View Comments and Join the Discussion!