Bud Light Expands Lime-A-Rita Franchise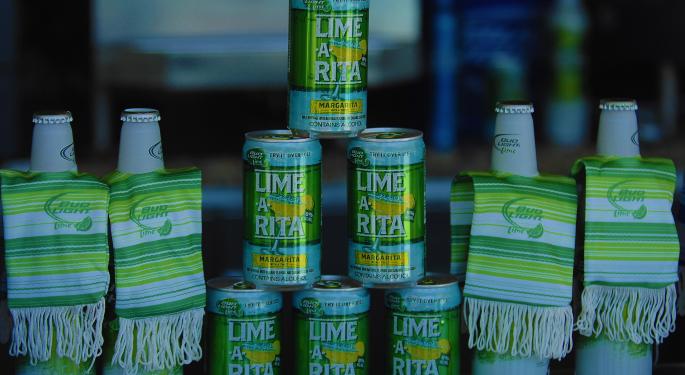 Anheuser-Busch InBev (NYSE: BUD), the maker of Bud Light, is doubling its Bud Light Lime-A-Rita product line with two new flavors: Mang-O-Rita and Raz-Ber-Rita.
The new flavors hit shelves earlier this week.
The original Lime-A-Rita was introduced in 2012. Bud Light introduced Straw-Ber-Rita as a permanent flavor and Cran-Brrr-Rita as a seasonal, limited-release in 2013.
"Lime-A-Rita and Straw-Ber-Rita are two of our most successful innovations to-date. They allowed us to introduce the Bud Light brand into occasions it hadn't traditionally played in," Bud Light Vice President Rob McCarthy said in a press release. "We anticipate Raz-Ber-Rita and Mang-O-Rita to continue extending the brand successfully into the popular margarita space."
Related: Is The Beverage Industry Now Like The High-Tech Sector?
Straw-Ber-Rita was the largest share gainer in the beer industry in 2013, Bud Light Director of Marketing Tyler Simpson told Benzinga. Straw-Ber-Rita and Lime-A-Rita represented the No. 1 and No. 2 brands in the flavored malt beverage category.
"Over the last 2 years, the Ritas have combined to drive the most share growth and be one of the most successful new innovations in the beer industry," Simpson said. "Combined, the Ritas are larger than the category's next seven brands."
The Ritas are flavored malt beverages meant to taste like margaritas with eight percent alcohol by volume. The drinks are offered in a "Mix-A-Rita" 18-pack with each of the four flavors.
Share of Throat
In a press release announcing its full year and fourth quarter profits for 2013, Anheuser-Busch said its strategy is to capture an increasing "share of throat" by attracting customers who normally drink wine, hard liquor and other alcoholic beverages.
"Bud Light Lime-A-Ritas were developed using our insights that consumers are seeking both variety and refreshing, convenient cocktail solutions," Simpson said. "Lime-A-Rita was able to extend the Bud Light brand into occasions it hadn't traditionally played."
Simpson said the Ritas are marketed toward both beer and non-beer drinkers, and drinkers are almost a 50-50 split in regards to gender.
But the company said in the press release said that the Ritas have been especially popular with women. Other efforts to tap into the non-beer drinker market last year include introducing Stella Artois Cidre, a hard cider.
Anheuser-Busch reported a total revenue increase of 3.3 percent to $43.2 billion for 2013.
Posted-In: Cran-brrr-rita LIme-a-rita Mang-o-rita Raz-Ber-Rita stella artois Straw-ber-ritaNews Best of Benzinga
View Comments and Join the Discussion!