Back And Forth: Where Does Twitter Stand Four Months After Going Public?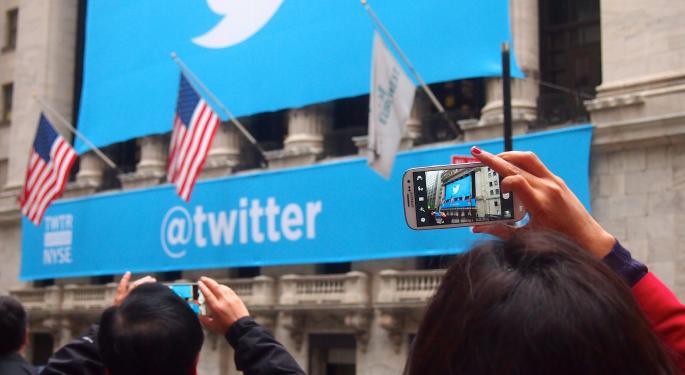 We're two days away from the four-month anniversary of the Twitter (NYSE: TWTR) IPO, but where is the stock now? How has it fared as a publically traded company?
First, the price action. Remember November 6 when shares were priced at $26 per share—up from the original $17-$20 range? There was no doubt that this was a hot IPO, likely the hottest since its arch-rival Facebook IPOed.
It IPOed on November 7 and closed an impressive 72 percent higher that day. Through the rest of the month it would slowly move lower, reaching a low of $39.06 before rocketing to a high of $73.31 by the end of the year.
In 2014 the stock moved lower again. After a disappointing first earnings release, the stock plunged to a low of $50.03. It regained about half of those losses and now sits just above $54.
Related: Why Does Apple's CarPlay Exclude Pandora And Google Maps?
This downward trend happened while Twitter stayed out of the news, a sharp contrast from the stock's launch. Very few IPOs get the media and investor attention that Twitter did once it announce its IPO, but since that time the company hasn't received the type of coverage that Facebook or Apple get almost every day. But that could be a positive, because the investing community as a whole doesn't appear too excited about the stock.
Twitter's stock price is still unjustifiably high, according to some fundamental models that place Twitter's fair value at $29. Current levels price the stock at $126 per user versus $42 per user for WhatsApp—that company that Facebook reportedly overpaid for, if you believe the Wall Street commentators.
Reflecting this concern about valuation, only three of 23 analysts have a buy rating on the name and the 12-month price target on the stock is $50—lower than current levels. The stock is below its 50-day moving average, volume is diminishing and its upward trajectory is gone.
With only 14 percent market penetration and some evidence indicating that Twitter is having trouble growing its user base by any meaningful amount, new money isn't moving into the name.
Investors want to see the company solve its user base issue and find a monetization strategy that allows Twitter to say that it found the secret to making money on its platform.
To be fair, Twitter has time to turn its fortunes around. Facebook wasn't a stock market darling in the early days of its IPO either. The company had a lot of trouble finding a monetization strategy that convinced investors to put the company on their buy list. In Twitter's case, no news could be good news until it rolls out a convincing monetization strategy. Still, investors are going to demand meaningful signs of life when the company next reports earnings.
Disclosure: At the time of this writing, Tim Parker had no position in the companies mentioned.
Posted-In: Facebook IPONews Technicals IPOs Analyst Ratings Tech Trading Ideas Best of Benzinga
View Comments and Join the Discussion!