The More You Spend, The More You Get With American Express' Latest Card Offering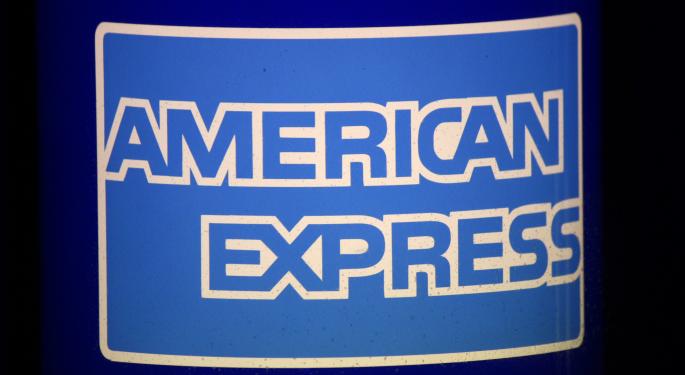 American Express (NYSE: AXP) announced a new, no annual fee credit card with unique rewards last week.
The AmEx EveryDay Credit Card will reward people for how often they use their credit card, in addition to how much money the cardholder spends.
Members who used the card 20 or more times for purchases in a single billing period will earn 20 percent extra membership rewards points. Returns and credits won't reduce the purchase count, but will reduces the number of membership rewards points, according to the terms and conditions.
Credit card expert Beverly Harzog told Benzinga that the new card expands AmEx's market reach, since it traditionally goes for big spenders who frequently travel. But there's a tremendous opportunity to appeal to customers who don't think there is a product to fit their lifestyle, AmEx spokesperson Melanie Backs told Benzinga.
"We are evolving to become more welcoming and inclusive by offering different products for different spending habits, while continuing to give card members unique experiences and outstanding service," Backs said.
A Mom's Market
The AmEx EveryDay card is designed with the multi-tasker in mind -- specifically, busy moms. American Express introduced the new card with a TV advertisement featuring actress, comedian and mom Tina Fey.
While moms may not be able to spend large amounts of money on their credit card to earn rewards, the idea is for the Everyday Card to let them earn rewards for how often they use it. The card also offers double rewards points at U.S. supermarkets. Backs said 74 percent of moms are primarily responsible for the household purchases.
"We targeted a segment here who in the past has thought we didn't have a product to meet her lifestyle," AmEx President of Consumer Products and Services Josh Silverman told the New York Times. "She's a busy mom and she doesn't have a lot of time to be traveling. She feels like some of those rewards are not accessible to her. She feels like she should not be spending in excess of $30,000 a year to earn one plane ticket."
But Harzog warns that the lure of reaching that magic number of purchases could lead to overspending just to earn the points.
"Even the smartest among us can fall for this kind of thing because its fun to earn rewards," she said.
Cash vs. Points
Harzog said a lot of cards have no annual fee, like AmEx's Blue Cash Everyday Card, so its not as big of a deal as the company is making it.
"The Blue Cash card has better rewards in terms of cash back," she said.
Introduced in 2011, AmEx's Blue Cash EveryDay Card offers 3 percent cash back in U.S. supermarkets (up to $6,000 per year in purchases), and two percent cash back at U.S. gas stations and select department stores.
AmEx has no plans of discontinuing it's Blue Cash card, Backs said, as it remains one of the company's most popular cards. The major difference between the two cards is that Blue Cash gives cash back, while the EveryDay rewards customers with membership points.
"Now, we have credit cards for both point and cash back lovers," she said.
Related: Morgan Stanley Upgrades American Express on New OptBlue Program
AmEx reported fourth-quarter net income of $1.3 billion for last year, up from $637 million the previous year.
View Comments and Join the Discussion!
Posted-In: Beverly Harzog Josh Silverman Melanie Backs Tina FeyNews Economics General Best of Benzinga