Jos. A. Bank And Men's Wearhouse Finally Cozying Up To Each Other?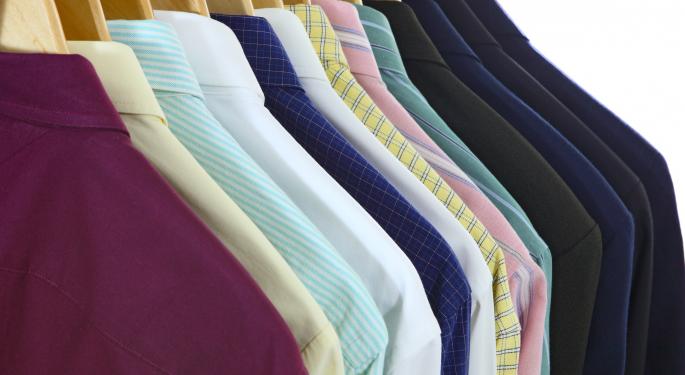 The drama continues with Jos. A. Bank (NASDAQ: JOSB) and Men's Wearhouse (NYSE: MW), but it appears that the two companies are getting at least a little friendlier with each other.
According to a press release Monday morning, Men's Wearhouse said that the two companies agreed to a non-disclosure agreement where they will exchange certain confidential information and "work in good faith to evaluate a potential combination."
Further, Men's Wearhouse has received a draft merger agreement from Jos. A. Bank. Men's Wearhouse said that its $63.50 tender offer that Jos. A. Bank rejected earlier represented a substantial premium for Jos. A. Bank shareholders, but would consider raising its offer to $65 if it can find more value in the company or Jos. A. Bank can reveal additional value through discussions or limited due diligence.
Related: Jos. A. Bank To Purchase Eddie Bauer: The Drama Continues
This more cordial exchange of information follows harsh words, strange acquisitions and enough drama to make a decent financial soap opera. In February, Jos. A. Bank agreed to purchase Eddie Bauer for $825 million, but stated in the press release that it could terminate the agreement if an unsolicited offer were made to acquire Jos. A. Bank that represented a better deal for its shareholders.
This unusual termination right made investors believe that the acquisition was another play in the ongoing wrangling between Jos. A. Bank and Men's Wearhouse.
In 2013, the two companies began a back and fourth campaign to acquire each other. The past couple offers seem to indicate that Men's Wearhouse is now the clear pursuer. The original bid of $55 per share resulted in a staunch "no" from Jos. A. Bank, but Men's Wearhouse raised it to the current bid of $63.50 set to expire on March 12, 2014.
After reaching a low of $43.85 in mid-February, Men's Wearhouse now sits at more than $53. That shift reflects volatility; over the past three months the stock is up only about five percent.
Jos. A. Bank has shown similar volatility but has gained nearly 10 percent of value in the past three months.
Disclosure: At the time of this writing, Tim Parker had no position in the companies mentioned.
Posted-In: Jos. A. Bank Men's WearhouseM\u0026A News Press Releases Best of Benzinga
View Comments and Join the Discussion!