Benzinga's M&A Chatter for Wednesday February 26, 2014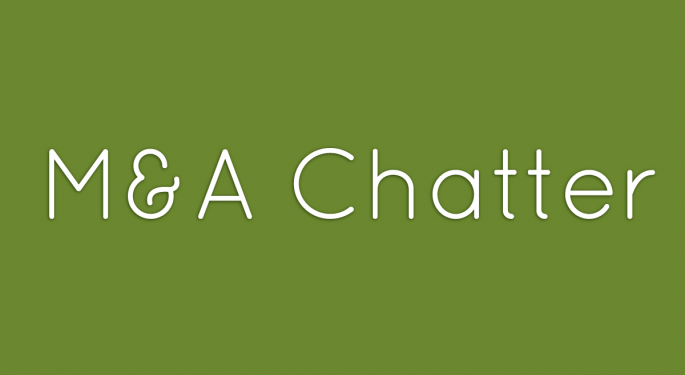 The following are the M&A deals, rumors and chatter circulating on Wall Street for Wednesday February 26, 2014:
Walmart Acquires Yumprint
The Deal:
WalmartLabs (NYSE: WMT) announced on their blog Tuesday that they were acquiring recipe site Yumprint. Terms of the deal were not disclosed.
Walmart closed Wednesday at $74.78 a gain of 2%.
Rumor of Microsoft Interest in Pandora Acquisition
The Rumor:
Shares of Pandora (NYSE: P) rose sharply higher Wednesday on unconfirmed market chatter of a potential bid from Microsoft (NASDAQ: MSFT). Analyst Albert Fried dismissed the rumor as a "fairy tale".
Spokespersons for the two companies would not comment on the report.
Pandora closed Wednesday at $38.87, a gain of 2.72%%.
Report Blackstone Near Deal for 20% Stake in Versace
The Rumor:
Private equity firm Blackstone (NYSE: BX) is close to a deal to acquire Italian luxury goods company Versace, according to sources. Financial Times reported the deal could be be as much as €1B for the stake in the firm headed by Donatella Versace.
Spokespersons for Blackstone and Versace declined comment.
Blackstone closed Wednesday at $32.67, a loss of $0.26.
View Comments and Join the Discussion!