Drone Cargo Ships Possible In 10 Years According To Rolls-Royce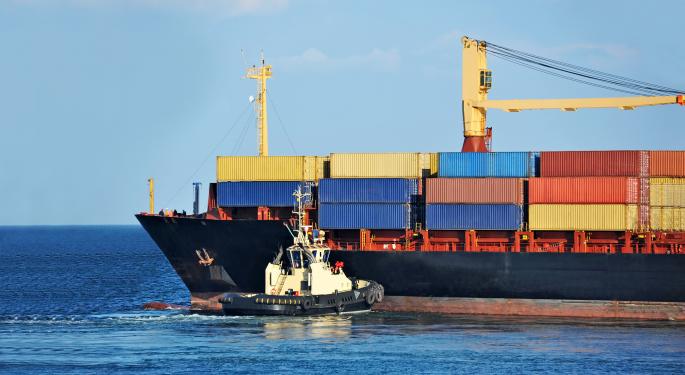 Giant cargo ships without a live crew aboard? Is it even possible? "Yes," Rolls-Royce vice president of innovation in marine engineering and technology, Oskar Levander told Bloomberg. Not only that, Levander said, but such remote-controlled vessels could be deployed in regions like the Baltic Sea within a decade.
Considering regulatory hassles, overall skepticism and union resistance, worldwide adoption could take longer. A lot longer.
Potential savings to the $375 billion shipping industry are significant. More importantly, according to Levander, from a technological standpoint it is already possible to remove onboard crews from the equation.
"Now the technology is at the level where we can make this happen, and society is moving in this direction," Levander said. "If we want marine to do this, now is the time to move."
With aerial drones a reality and driverless cars in development, the notion of ships that don't require sailors is no longer science fiction. To that end, Rolls-Royce's Blue Ocean development team set up a virtual-reality prototype in Alesund, Norway. The prototype simulates a 360-degree view from a ship's bridge.
Related: Amazon's Jeff Bezos: Drone Delivery is Coming
Eventually, Rolls-Royce believes, captains sitting in control rooms on dry land could pilot hundreds of crewless ships all over the world.
Doubters and naysayers have lined up. Safety, of course, is the prime concern. Rolls-Royce said it actually believed crewless ships would be safer than current ships that are prone to human error. That said, everyone seemed to agree that there would have to be a huge investment in new safety features and redundant systems in order to make the ships acceptable to maritime regulators, insurers and the public.
Even though Rolls-Royce mock-up schematics show it would be possible to lighten ship weight by five percent and decrease fuel use by 12 to 15 percent by eliminating the crew and quarters, some do not believe the savings would justify the upfront expense.
Understandably, the International Transport Workers' union has opposed drone ships. This despite assertions on the part of Rolls-Royce and other proponents that crews would not be eliminated – but would instead work on dry land loading, unloading and servicing ships when they came into port.
Unmanned ships would reduce the risk of piracy, Levander said, since there would be no hostages to hold for ransom. Of course, computer hackers could attack and commandeer ships, so secure, hacker-proof technology would have to be developed and implemented.
Despite all the obstacles and negatives, TechCrunch pointed out that the lure of lower costs and, ultimately, cheaper prices for goods and services on a global basis would drive companies like Rolls-Royce to continue to seek to find ways to solve the myriad problems and make drone ships a reality.
According to TechCrunch, the question of drone cargo ships is not one of "if" but of "when."
At the time of this writing, Jim Probasco had no position in any mentioned securities.
Posted-In: aerial drones Alesund Baltic Sea Blue Ocean development team driverless carsNews Events Media Best of Benzinga
View Comments and Join the Discussion!