Hydrogen-Fueled Cars Are Coming to America's Roads Sooner Than You Think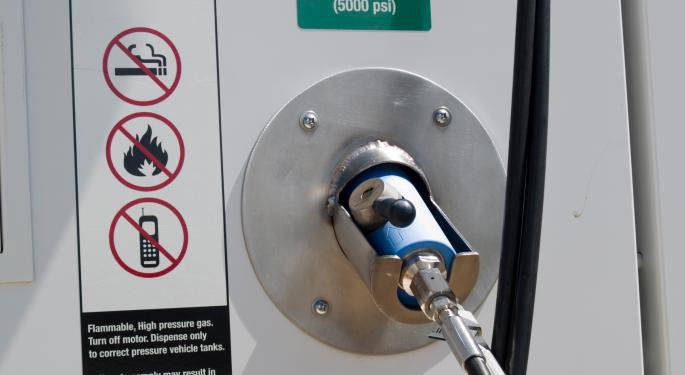 Sales of electric cars in the U.S. have jumped dramatically in recent years. But there's another type of alternative energy, zero-emissions vehicle – this one powered by hydrogen fuel cells – that's expected to make an impact on America's roadways in the very near future.
The hydrogen fuel cells used in these autos generate electricity and emit water vapor as a byproduct. They reportedly have a comparable driving range on one fueling to similar electric vehicles (EVs), and take less time to refuel. The fuel cell technology can also be upgraded for use in trucks and other large vehicles.
The federal government is offering tax credits and other incentives for fuel cell electric vehicles (FCEVs) and fueling stations. And the Wall Street Journal reports three Asian car makers, Hyundai, Toyota (NYSE: TM) and Honda (NYSE: HMC), have plans to lease the new vehicles in some European countries – and in California – by the end of the year.
Related: Another Round Of Recalls For Toyota
California, meanwhile, is pushing ahead with its own plan for FCEVs – calling for 15 percent of all new vehicles sold in the state to be zero-emission vehicles (ZEVs) by 2025. Seven other states – Connecticut, Maryland, Massachusetts, New York, Rhode Island, Oregon and Vermont – have reportedly adopted the California ZEV regulations.
But there are some major challenges facing the FCEV market. At the moment, according to the WSJ, there are less than 15 hydrogen fueling stations in the U.S. that are open for the public's use. And, as with all new technologies, the current FCEV cars on the market are very expensive.
But there is the possibility FCEVs could become the next "big thing" in cars over the next several decades.
"The thing about fuel cell vehicles is they have the potential to offer many of the things that consumers expect today from gasoline vehicles," John Swanton, an air-pollution specialist with the California Air Resources Board told the Wall Street Journal. "For our long-term goals they could play a greater role."
View Comments and Join the Discussion!
Posted-In: alternative Alternative Energy alternative energy carsNews Retail Sales Travel Media General Best of Benzinga