Apple Rumors Explained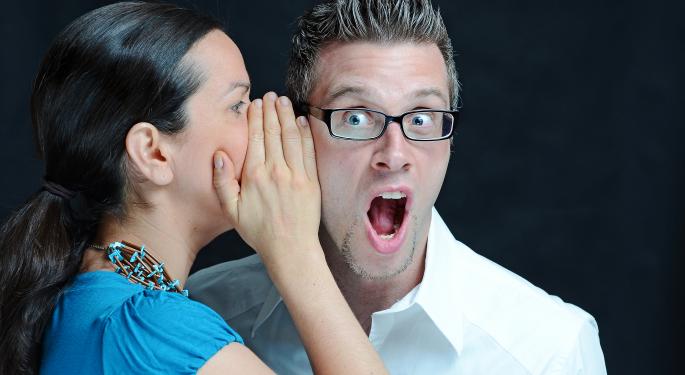 Most rumors about Apple (NASDAQ: AAPL) products come from the supply chain. That makes sense. Prior to announcement, products have to be developed and then manufactured. Not all of this happens in Cupertino. Much of it happens overseas.
Timing is a big part of how and when rumors develop, according to Digitimes Research, a branch of media outlet Digitimes, which explained the process in an article on February 21.
Digitimes Research director, Joanne Chien, described what she called the "Chaiwan Model" for the mobile supply chain. That term combines manufacturing resources in both China and Taiwan – resulting in "Chaiwan."
According to Chien, "We may provide shipment data for Apple 1-2 months before [the product] even begins selling in the market, because that is when the supply chain delivers it to Apple."
Related: Hold Off On Buying That Apple TV!
Rumors based on that information have been fairly reliable, according to CNET. Prior to that 1-2 month window information, when reported, has often been much less reliable.
Chien said, "When Apple is getting a product ready for the market, the product is in the supply chain pipeline 6-9 months before Apple even announces its launch." The problem is that at this stage of development, many products undergo changes. Changes can result in misleading or even false rumors.
In addition, Chien said, there has been a "seismic shift" in the design and manufacturing of products. This has affected the supply chain in a big way resulting in even less reliability when it comes to rumors.
As Chien explained it, companies like MediaTek, which is a processor provider, no longer follow a strict product development roadmap. Instead, they react to market demand. In 2013, this resulted in MediaTek going a period of time – up to two months – without releasing a new product. Then, almost without warning, the company released two products in the same month.
The so-called seismic shift in the way the supply chain works – even for companies like Apple that like to control as much of the process as possible – makes rumor reliability considerably less certain.
Sometimes the rumor mill is spot on, as was the case with the Apple 5S and 5C smartphones. In other cases, reality and rumor simply do not match up. TUAW said that in all of 2013, for example, 9T05Mac reported on 164 Apple-based rumors. Of those, 73 turned out to be true and 91 were either partially or very inaccurate.
None of this information will stop rumors and speculation about upcoming Apple products. It's too fascinating for far too many people. However, it's wise for investors to keep in mind that if 9TO5Mac's 45 percent accuracy rate is typical, one could also get decent results just by flipping a coin.
At the time of this writing, Jim Probasco had no position in any mentioned securities.
View Comments and Join the Discussion!
Posted-In: 9T05Mac Apple Apple 5C Apple 5SNews Events Tech Media Best of Benzinga