Hewlett-Packard PC Sales Up First Time In Seven Quarters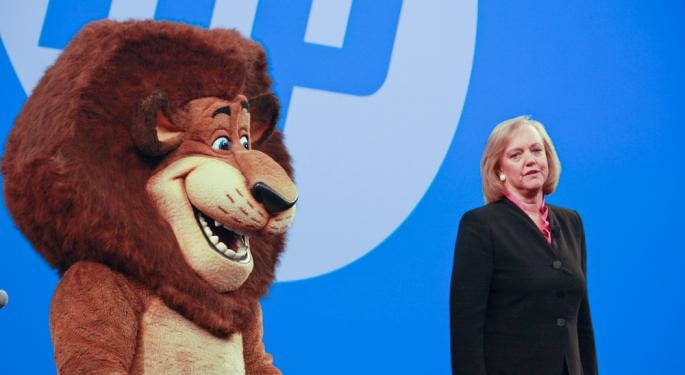 On a conference call Thursday, Hewlett-Packard (NYSE: HPQ) chief executive officer, Meg Whitman had some good and unexpected news about revenue growth. Not just revenue growth per se but growth in the unlikeliest of areas, PC sales.
The Personal Systems Group (PSG) posted revenue of $8.5 billion. Most of that revenue came from enterprise sales, which were up eight percent. Although consumers in general are still not buying PCs in the numbers they did previously, businesses are replacing old equipment – not with devices, but with new computers.
Whitman said, "I do think there's also some net momentum in the long overdue PC refresh, and what I think commercial customers are understanding from their employees is well employees may want a tablet. They actually also need more traditional compute devices to do their real work in the everyday environment in their company, so that is helpful."
Related: Sony's PCs Are Dead – Up Next, TVs
Microsoft(NASDAQ: MSFT)'s decision to end support for Windows XP also probably had something to do with the rash of PC upgrades during the quarter.
Whitman gave credit for the revenue growth in PCs to Dion Weisler, who she installed as head of PSG last summer. His predecessor, Todd Bradley was the driving force that made Hewlett-Packard one of the largest PC makers in the industry, but also took the blame for the company's inability to carve a niche in mobile.
Overall, according to Reuters, the company has been working to reduce reliance on PCs and move to become more like IBM (NYSE: IBM) in its role as a service provider for enterprise. To that end server sales were one percent higher than analysts had expected, a good sign.
Whitman said that in general she expected revenue to stabilize in 2014. She also indicated there would be some areas of growth.
In an interview with Reuters Whitman said, "Pleased with the progress, more work to be done."
Speaking with analysts later she added, "It's a battle. It's a knife fight every single day out there, but we feel we've got the right ammunition."
One analyst, Shannon Cross of Cross Research said of Hewlett-Packard, "They're in a strong position to do well this year, but it also shows the continued challenges in their enterprise business, their software business. They're clearly not done in terms of improving."
It's important to note that overall revenue was down for the quarter, albeit less than analysts had anticipated.
Whitman summed it all up on the earnings call when she said, "While I would certainly not declare victory based on these results, they represent great progress."
Sometimes progress is a victory in itself.
At the time of this writing, Jim Probasco had no position in any mentioned securities.
Posted-In: Cross Research devices Dion Weisler hewlett-packard HPNews Events Media Best of Benzinga
View Comments and Join the Discussion!