Benzinga's M&A Chatter for Thursday February 20, 2014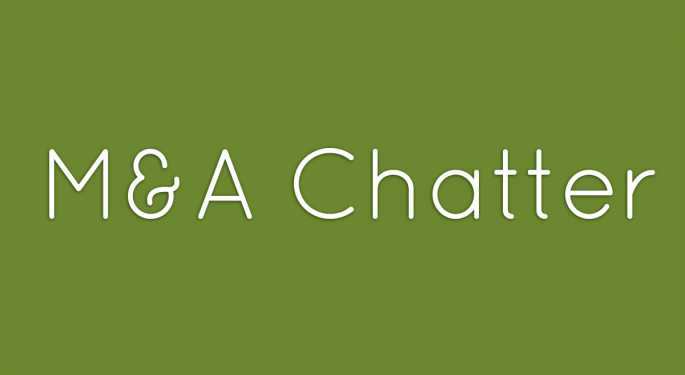 The following are the M&A deals, rumors and chatter circulating on Wall Street for Thursday February 20, 2014:
EBay Acquires PhiSix; Terms Not Disclosed
The Deal:
Ebay (NASDAQ: EBAY) announced it has acquired computer graphics company PhiSix. Financial terms were not disclosed.
PhiSix creates 3D models of clothing from photos, pattern files and other sources and simulates the behavior of the garments.
Ebay closed Thursday at $54.96, a gain of $0.22.
Banco Bilbao Vizcaya Argentaria Acquires 'Simple' for $117M in Cash
The Deal:
BBVA has agreed to acquire U.S. digital banking company, Simple for 117 million. Co-founders Joshua Reich and Shamir Karkal, will continue to head the company as CEO and CFO respectively.
Banco Bilbao Vizcaya Argentaria closed Thursday at $12.18, a gain of $0.08.
Report Nokia Considering Takeover of Juniper Networks
The Rumor:
Shares of Juniper Networks (NASDAQ: JNPR) rose early on Thursday on a report from the German publication Manager that Nokia (NYSE: NOK) was considering a takeover of the Sunnyvale, CA networking company.
Spokespersons for the two companies declined comment on the report.
Juniper Networks closed Thursday at $27.41, a gain of $0.21.
View Comments and Join the Discussion!