Hold Off On Buying That Apple TV!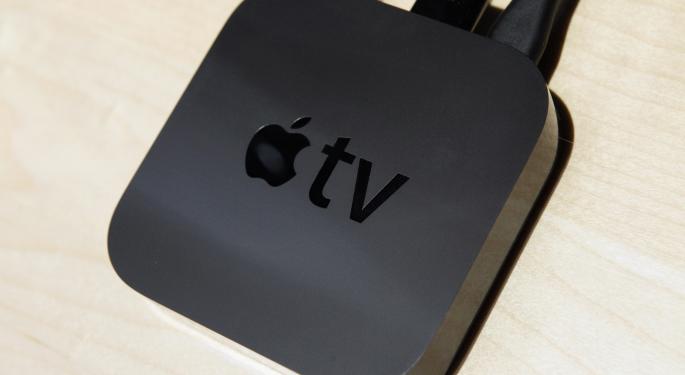 If you are considering buying an Apple (NASDAQ: AAPL) branded Apple TV set top box anytime in the near future, you might want to reconsider – for now, at least.
There are several reasons.
All of them revolve around uncertainty about what's going on in "Apple TV" world.
First, there's the ongoing and persistent rumor that Apple might release a new version of Apple TV sometime in the next few months. Both Bloomberg and 9to5Mac have reported this rumor.
Timing was uncertain although Bloomberg indicated an April launch was possible.
Supposedly a new version of Apple TV would do much more than the current model which streams videos from YouTube, Netflix and other services. Currently the device competes with similar devices from Roku and Google.
A new model of Apple TV might include, for example, a speedier processor, a better video game interface, and more importantly, integration with cable to allow streaming of live TV through the device.
That last bit – live streaming cable – was mentioned in the recent Bloomberg report tying Apple to Time Warner Cable. Which brings up yet another wrinkle – the recent announcement that Comcast had a deal to buy Time Warner.
Since Comcast has its own Internet system, Xfinity, there would certainly be reason to believe that if such a deal were to go through, Apple might be left out in the cold since it would be highly unlikely Comcast would be interested in sharing the Internet TV market with the competition.
This notion opens the possibility that there will never be a new Apple TV model and that Apple TV will fade into obscurity.
Alternatively, The Wall Street Journal said, perhaps Apple would craft a deal that cable providers, including Comcast, couldn't refuse. That deal would rely on cable providers for content – rather than competing with them.
AppleInsider reported on advertised job openings at Apple including one for "Content Partner Engineer" who would "provide technical support to external vendors as they integrate their content" on Apple TV.
The second announced opening was for a "Software QA Engineer." This member of the Apple TV team would help "diagnose defects in content and software" while working with third-party vendors as well as Apple's own internal engineers.
All this hiring points to anything but the death of Apple TV. It does point to a possible major upgrade and reason enough for consumers to take a short timeout while awaiting further news from Cupertino.
At the time of this writing, Jim Probasco had no position in any mentioned securities.
Posted-In: Apple Apple TV ComcastNews Rumors Events Tech Media Best of Benzinga
View Comments and Join the Discussion!