Did Facebook Overpay For WhatsApp?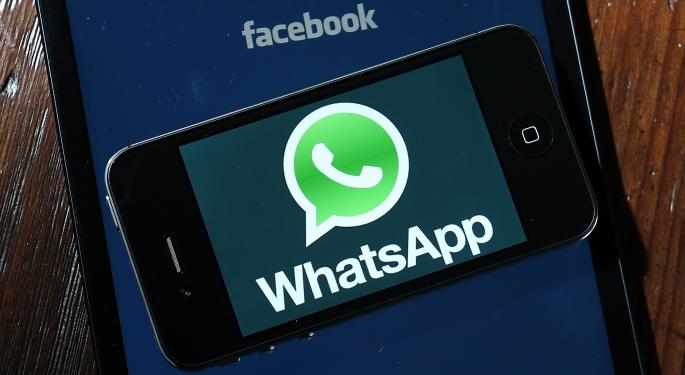 Like a pair of designer jeans, if you're going to pay that kind of money, they better be really good!
That about sums up what investors are saying about Facebook's (NASDAQ: FB) newly-announced acquisition of mobile messaging startup WhatsApp.
In a deal announced Wednesday afternoon, Facebook will pay $4 billion in cash and another $12 billion in Facebook shares. Jan Koum, WhatsApp's Cofounder and CEO, will join the Facebook board and another $3 billion in restricted stock will go to WhatsApp's founders and employees with a vesting period over the next four years.
If you've never heard of WhatsApp, it's probably because you live in the United States. The text messaging application has 450 million worldwide users, but most are outside of the United States. The platform works similarly to other text messaging apps, but users don't have to pay for SMS, according to its website.
WhatsApp doesn't sell ads (yet), ask you to purchase games or make in-app purchases, or any of the other normal monetization strategies employed by other internet startups. According to its founders, they're more interested in building a user base. WhatsApp makes money by charging users $1 for a year of service after an initial free year.
Related: Facebook Announces $16B Cash & Stock Merger With WhatsApp
But is this a good move for Facebook?
There's no absence of opinions but the facts look like this: Last year, Facebook tried to purchase the startup for $3 billion implying that WhatsApp saw a five-fold increase in value in less than a year in Zuckerberg's eyes.
The $19 billion price tag on the company implies a value higher than American Airlines, Ralph Lauren, Coach, and Marriott to name a few.
This will also reignite the debate of whether Internet startups are overvalued with certain references to the dot-com era.
What's clear is that Facebook and Mark Zuckerberg don't want to see other social media companies doing what Facebook once did to MySpace.
Zuckerberg isn't afraid to pay big money to keep the competition in check.
WhatsApp will operate just as Instagram does today—an acquired property that keeps its branding. In other words, business as usual for WhatsApp.
Disclosure: At the time of this writing, Tim Parker had no position in the companies mentioned.
Posted-In: fb Jan Koum Mark Zuckerberg WhatsAppNews M&A Startups Tech Best of Benzinga
View Comments and Join the Discussion!