Capital One or U.S. Bank: Which Would You Rather?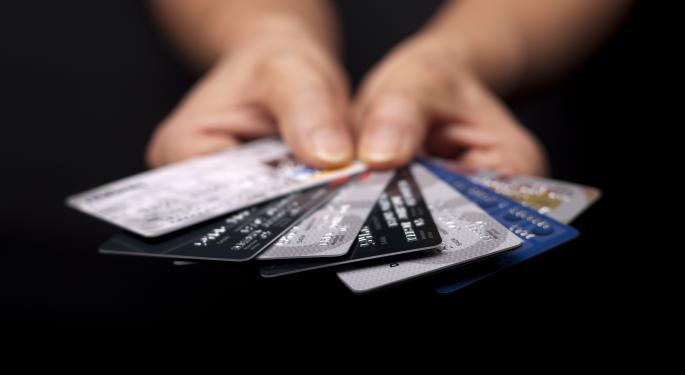 Credit cards are big business.
With experts saying 70 percent of the U.S. economy is consumer spending, and much of that spending being made on credit cards, it is no wonder why plastic is all but ubiquitous in American society.
Two of the largest credit card issuers North America are Capital One (NYSE: COF) and U.S. Bank (NYSE: USB). A recent ranking by CardHub listed the companies as being numbers five and seven, respectively, in terms of their shares of the U.S. credit card market.
Today we will compare how these two credit card companies' stocks performed in 2013 and into 2014.
Capital One entered 2013 after a healthy gain in share value for 2012. A share of Capital One stock could be purchased for $60.00 on Jan. 2, 2013, but the stock's price quickly fell -- reaching nearly $50 per share by March 1st.
But the stock's early year backsliding did not last for long, and after the spring its share price increased steadily. By the end of the year Capital One managed to close at near-highs for the year -- its $76.61 closing price being just pennies off the yearly high. Overall, Capital One returned a respectable 27.7 percent for the year, which was right in line with major market averages. 2014 has seen Capital One give back some of its 2013 gains, and the stock is trading under $72 going into the latter part of February.
Related: Sotheby's vs. eBay - Which Would You Rather Bid On?
Capital One recently made headlines when it was revealed at least some of the company's credit accounts have terms -- which allow Capital One employees to visit debtors at home or at work when attempting to collect a debt.
In the case of credit cards, this practice is virtually unheard of. Commentators and pundits have called the update in terms everything from "a mistake" to "creepy." It will be interesting to see exactly how Capital One handles the controversy, and if other creditors follow suit in adding similar language to their credit card terms.
Posted-In: credit cards revolving credit revolving credit credit card processingNews Psychology Economics Markets General Best of Benzinga
View Comments and Join the Discussion!