Benzinga's M&A Chatter for Wednesday February 19, 2014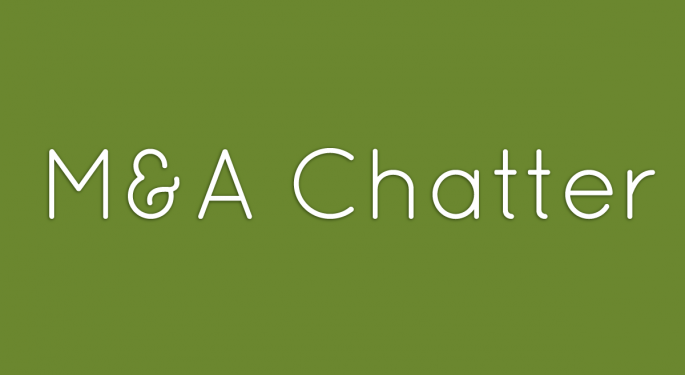 The following are the M&A deals, rumors and chatter circulating on Wall Street for Wednesday February 19, 2014:
Signet to Acquire Zale for $21.00/Share in Cash
The Deal:
Signet Jewelers (NYSE: SIG) and Zale (NYSE: ZLC) announced Wednesday that they have an agreement for Signet to acquire all of the issued and outstanding stock of Zale for $21.00 per share in cash. The transaction is subject to Zale shareholder and regulatory approvals.
Zale closed Wednesday at $20.92, a gain of 40%, while Signet Jewelers gained 18%, closing at $93.65.
Safeway in Talks for Possible Sale of Company
The Guidance:
Safeway (NYSE: SWY) announced Wednesday it is in discussions regarding a potential sale of the company. Safeway said the discussions are ongoing, no agreement has been reached, and there is no guarantee of a deal.
Safeway did not comment further on the talks.
Safeway closed Wednesday at $34.61, and traded at $35.75 after-hours. Safeway also report a Q4 earnings beat with some cautious guidance.
Facebook Acquires Whatsapp for $19B in Cash Stock Deal
The Deal:
Facebook (NASDAQ: FB) announced after the close Wednesday, it was acquiring the maker of chat app Whatsapp for $4 billion in cash and $16 billion in Facebook stock, plus $3 billion in restricted stock units.
Whatsapp has 450 million users and is currently adding one million users per day.
Facebook closed Wednesday at $68.06, but traded as low as $64.18, following the announcement.
Report Furiex Seeking a Buyer
The Rumor:
Shares of Furiex Pharmaceuticals (NASDAQ: FURX) spiked near $114 per share Wednesday, on a report from Bloomberg the company was seeking a potential buyer, as it nears regulatory approval for its irritable bowel treatment, according to sources. Furiex reportedly unsuccessfully attempted a sale through an auction process in 2013.
A spokesperson for Furiex declined comment.
Furiex Pharmaceuticals closed Wednesday at $98.50, a gain of just 1%.
View Comments and Join the Discussion!