Apple's Rumored Takeover Of Tesla – Not Everyone Is Buying A Buyout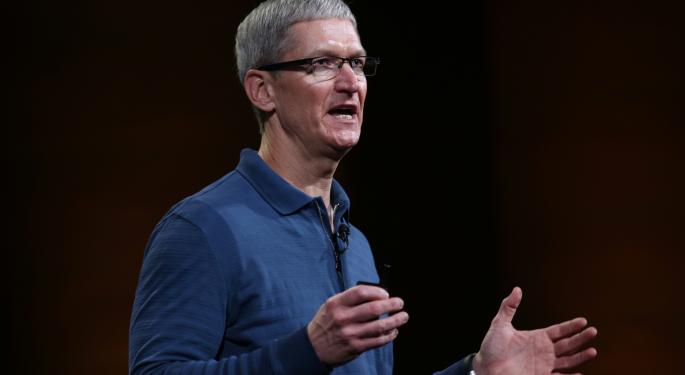 If true, Sierra's speculation that CEO Tim Cook will confirm on Friday, February 21, that Apple (NASDAQ: AAPL) is buying out Tesla Motors (NASDAQ: TSLA) would be huge news.
If true. That is an important disclaimer.
Shares of Tesla closed up $5.47, or 2.8 percent, on Tuesday at $203.70. Sierra believes the impetus was the pending buyout by Apple.
Not everyone, however, is buying a buyout.
Jim Cramer's The Street called the rumor "The biggest joke I've heard in a long time." Quoting the old Wall Street adage, "Buy the rumor, sell the fact," the article pointed out an important given in trading. Once something happens, it is already priced in. Therefore, The Street said, investors should remain cautious.
Hopeful investors – those who have helped drive Tesla's market valuation to $25 billion or, as International Business Times put it, $1.1 million for each of the 22,450 Model S sedans sold in 2013 – may be pinning buyout hopes on comments made by CEO Elon Musk in an interview with Bloomberg last year.
In the interview, Musk said an acquisition could be "one of the possible outcomes" for Tesla. He also acknowledged that Apple was "cash-rich" something he had already stipulated would have to be true for any company contemplating a takeover.
While a full-out buyout seemed illogical to many, a partnership between Apple and Tesla made more sense to some.
Phones Review suggested as much saying that although Apple might have strong interest in buying out Tesla, from the automaker's side, it just doesn't make a lot of sense, given the company's growth and potential.
A partnership, however, would give Apple access to Tesla's considerable expertise in an area both companies care about – batteries.
Related: Elon Musk: $35,000 Tesla Coming In Three Years
Meanwhile, instead of focusing on a highly speculative rumor, CNBC suggested investors consider five questions when CEO Musk takes to the phones following the company's fourth quarter and 2013 full-year earnings report Wed. after the market closes.
Will Tesla have sufficient lithium-ion batteries available to produce 800 cars a week by the end of 2014, as predicted by Musk?
Will Musk pin down actual construction of the so-called "giga factory" where said batteries would be manufactured?
What is Tesla's prediction about how quickly automobile sales in China will grow?
Will the Model X roll out on time and what will be the demand?
How quickly will Tesla grow its "supercharger" charging station network nationwide?
At the time of this writing, Jim Probasco had no position in any mentioned securities.
Posted-In: Apple China Elon MuskNews Rumors Management Tech Media Best of Benzinga
View Comments and Join the Discussion!