Benzinga's M&A Chatter for Tuesday February 18, 2014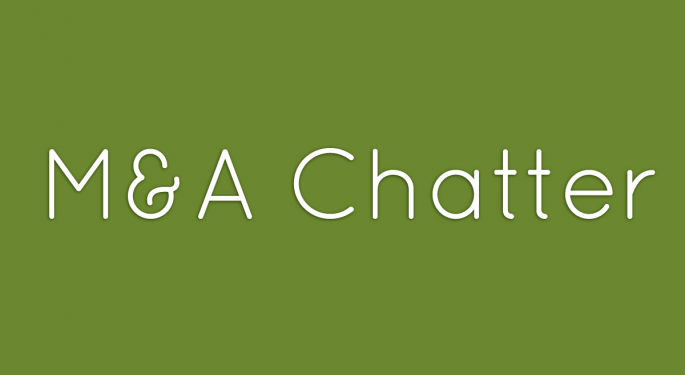 The following are the M&A deals, rumors and chatter circulating on Wall Street for Tuesday February 18, 2014:
Actavis to Acquire Forest Laboratories for $25B in Cash and Stock Deal
The Deal:
Actavis (NYSE: ACT) and Forest Laboratories (NYSE: FRX) announced Tuesday that they have entered into an agreement, under which Actavis will acquire Forest Labs for $89.48 per Forest share. The deal is comprised of $26.04 in cash and 0.3306 Actavis shares, for a total value of approximately $25 billion. The deal was first report by the Wall Street Journal late Monday.
The proposed deal has been approved by the Boards of both companies and is subject to shareholder and regulatory approvals.
Forest Laboratories closed Tuesday at $91.04, a gain of 27.5%, while Actavis gained 5%, closing at $201.47.
Apple, Tesla Shares Rise on Report of 2013 Meeting
The Rumor:
Shares of Apple (NASDAQ: AAPL) and Tesla (NASDAQ: TSLA) moved higher Tuesday on a report in the San Francisco Chronicle the Telsa CEO Elon Musk had met with Apple's M&A head, Adrian Perica, in 2013. The report led to speculation that the two companies had discussed a potential merger or other business deal and perhaps the naming of Elon Musk as Apple's CEO.
Spokespersons for both companies declined comment on the report.
Tesla closed Tuesday off the high at $203.70, a gain of 2.76%, while Apple ended the regular session at $545.99, gaining $2.00.
Esposito Global Proposes to Acquire SWS Group for $8.00/Share in Cash
The Offer:
Esposito Global notified the Special Committee of Board of Directors of SWS Group (NYSE: SWS) on February 12, 2014, that it is prepared to acquire all the outstanding common shares of SWS for $8.00 a share in cash.
The Special Committee confirmed receipt of the unsolicited from Esposito Global and said it will review will the Esposito Global proposals, and a proposal of $7.00 per share from Hilltop Holdings (NYSE: HTH). The Hilltop proposal consists of 50% cash and 50% in Hilltop shares.
SWS Group closed Tuesday at $8.17, a gain of 3.5%.
View Comments and Join the Discussion!