Uber Hits A Road Bump In Detroit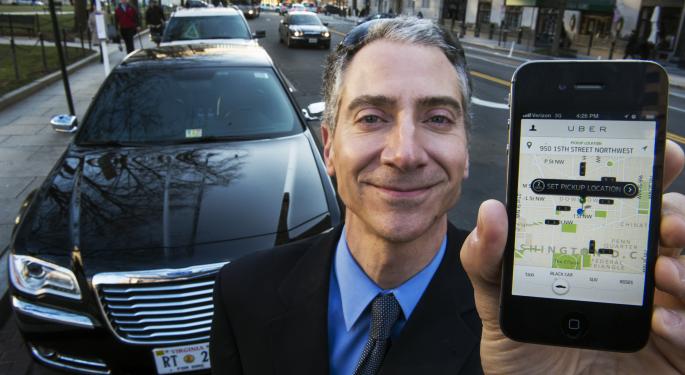 Uber has made its way into over 70 cities around the world since its creation in 2009. Some regulatory concern in the Motor City, however, is the latest in a series of minor troubles the tech travel app has received in recent months.
A report in the Detroit Free Press explains how Uber is in a clash with city and Michigan state regulators that question the company's claim "that it's only a technology business and need not comply with local and state taxi and laws."
Uber has also drawn ire from Detroit taxi services, such as Checker Cab, who have lost business since Uber started a Detroit-area service in March 2013.
The complaints boil down to this: city and state officials say that since Uber charges a fare for rides, drivers must be subject to a $300 Certificate of Authority from the state and a $110 limo operator's license from the Detroit Police Department, which would inspect their vehicle. Since Uber is not currently subject to paying these licenses, the company is not, as Checker Cab told the Free Press, on a "level playing field."
The San Francisco-based company could be seen as more of middle man between rider, driver and destination.
Uber does not own any vehicles or employ any of the drivers -- they take a 20 percent cut of the customer's fare, while the rest is given to the driver. Payment is completely credit-based: a customer signs up for the mobile app and payments are made at the completion, or cancellation, of each ride. Tipping a driver is considered unnecessary or, as the Free Press reported, "forbidden."
"While it isn't too much of an issue now, [bypassing regulations] could potentially set a precedent that opens the door for huge rate spikes and unsafe cars/drivers," Nicholas Mukhtar, a resident of Detroit's midtown region the past five years, told Benzinga.
Related: Hulu Vs. Snapchat - Which Startup Is Worth More?
Uber has run into some other problems around the country throughout the winter season.
The company is currently facing a lawsuit in the death of a 6-year-old who was killed in a crosswalk by an Uber driver on December 31, 2013 in San Francisco. Uber has shied away from commenting on the incident, saying the driver (Syed Muzaffar) was not on duty at the time of the incident. Muzaffar's lawyer says he was on his way to the city to work that night.
Uber's "surge pricing" has also been the voice of critics in other metropolitan areas. Surge pricing occurs when there is high demand for the service, high traffic in the area, or even inclement weather, much the dismay of many riders.
Travis Kalanick, Uber's co-founder and CEO, has also faced criticism for the manner in which he has responded to such complaints.
But despite criticism, Uber has its supporters.
"Uber is a great service that exceeds traditional taxis," said Mukhtar. "I really enjoy the ability to book, track, and pay for my car all through the mobile app."
Mukhtar said he has had many issues with Detroit's other taxi companies, like Checker Cab, "including long waits or no shows. I love that Uber uses technology to ensure that these problems don't happen with their service."
In January, the company ran a cross promotion with Cadillac to take international journalists around the downtown Detroit area during the North American International Auto Show. Riders were afforded a free ride with a 15-minute time limit. New York Fashion Week brought praise, during times of the aforementioned surge pricing, for the convenience of the app.
Posted-In: Checker Cab Detroit Free Press Nicholas MukhtarTravel Small Business Tech Media General Best of Benzinga
View Comments and Join the Discussion!