#PreMarket Primer: Tuesday, February 18: Big Merger Deals In The Works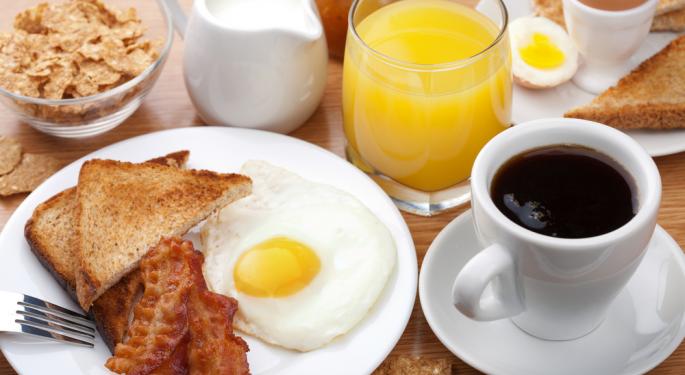 Friday, the Dow ended the day 126.80 points higher to finish at 16,154.39. The S&P was up 0.5 percent, or about 9 points, to 1,838.63 and the NASDAQ was nearly flat to close at 4,244.02.
This morning, U.S. markets are nearly flat. The Dow is indicated up about 6 points while the S&P is one point lower. The NASDAQ is trending down about two points.
Actavis (NYSE: ACT) is said to be interested in Forest Labs (NYSE: FRX) The $25 billion deal could be announced as early as today. Forest is 23 percent higher in pre market trading on the news.
Online streaming service Spotify is hiring U.S. filing experts for a possible IPO.
Well-known microfinance site Kickstarter was hacked over the weekend. No credit card information was stolen in the attack.
Asian Markets
The Bank of Japan left monetary policy steady causing the market to rally. The Nikkei was up about 3.1 percent to close at 14,843.24 and the Hang Seng was up nearly 0.2 percent to finish at 22,587.72.
The Shanghai Composite closed 0.7 percent lower at 2,119.06 and the Kospi was flat closing at 1,946.91.
European Markets
Europe is off its lows this morning and now mostly around the flat line. The FTSE is flat at 6,732.35 and the DAX is 0.1 percent lower at 9,646.70. Finally, the CAC is 0.5 percent lower at 4,313.66.
Commodities are mixed. WTI is up about 0.6 percent at $100.92 while Brent is flat at $109.10. Natural gas is 4.7 percent higher at $5.46 as the rally continues.
Gold is down about 0.3 percent at $1,314.30 and silver is higher by about 0.2 percent at $21.38. Copper is unchanged at $3.26.
The euro is 0.1 percent higher against the dollar at 1.372 and the dollar is about 0.4 percent higher against the yen at 102.38
The pound is 0.1 percent lower against the dollar at 1.669 and the Aussie dollar is at 0.902 against the dollar—up about 0.1 percent.
Prana Biotechnology (NASDAQ: PRAN) is up 26 percent while 21st Century Fox (NASDAQ: FOXA) and Blackberry (NASDAQ: BBRY) are up four percent this morning. Livedeal (NASDAQ: LIVE) is down nine percent while Seadrill (NYSE: SDRL) is down three percent.
Earnings reports from Friday:
The following companies will report today:
To read today's full earnings calendar, click here.
The Empire State Manufacturing Survey reaches the market at 8:30 AM ET and E-Commerce Retail Sales is released at 10:00 AM ET.
Posted-In: M&A News Eurozone Rumors Futures Commodities Forex Pre-Market Outlook Best of Benzinga
View Comments and Join the Discussion!