Exclusive: Prospect Capital Corporation President M. Grier Eliasek Talks 12 Percent Yields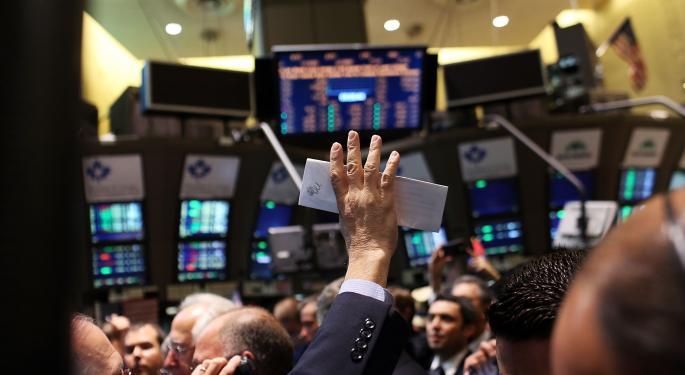 M. Grier Eliasek, co-founder, president and COO of Prospect Capital Corporation (NASDAQ: PSEC), offered insight into the company's success, including 12 percent dividend yield for shareholders, in an exclusive interview on Benzinga's #PreMarket Prep morning show.
2014 marks Prospect Capital's tenth anniversary as a public company. After 10 years of being publicly traded, they've grown their market capital from "$100 million a decade ago to about $3.5 billion today."
Eliasek said that despite high dividend yields, they've actually "under-distributed" relative to their income, making 12 percent easy to sustain with a "significant storehouse of value of undistributed earnings." They've declared monthly dividends moving forward all the way through to September, offering shareholders a significant amount of yield visibility.
They focus on a "broad range of private companies," all of which are middle market hitters bringing in anywhere from $5 to $150 million annually. Eliasek noted a "competitive advantage by being able to hold a lot of capital in one place."
Despite that cushion, and "running about 0.5 debt to equity," meaning they're reasonably under-leveraged (with an allowance of 1:1), credit risks are included based on the performance of their investments.
"We have not originated a new investment in over six years that has experienced a payment default or non-accrual," said Eliasek.
According to Eliasek, they only invest in about 2 percent of the deals that they look at.
Prospect Capital has a steady stream of companies coming to them after 26 years in the business, as well as an advanced scouting system with a plethora of resources, which allows them to cover a good deal of deal-making ground.
They don't "red-line industries" since they're able to adjust capital advancement. For instance, cyclical industries that they invest in, like energy, are high earners; and something they have a long history of investing in.
"Our company finances generally private, middle-market companies; and we've done a fair amount of energy over the years, so having a background in chemical engineering has helped, but mainly the engineering training helps to add to the so called 'scientific process' of how we underwrite and invest in loans and other yield-orientated investments," said Eliasek regarding his highly educated background.
Financials have also popped up on their radar. They don't emphasize utilizing a lot of leverage within their financial services companies "so they're less interest-rate sensitive." Currently, "excess of 20 percent asset yields," come from their finical services portfolio, which makes up the highest portion of their full portfolio.
"Financial services is another area. We actually reap significant tax benefits by investing through partnerships at the portfolio company level in consumer finance and other types of companies. And then we as a business development company in our structure as a public stock pay no taxations as long as we distribute at least 90 percent of our income to shareholders. That's how we're paying out a very attractive 12 percent dividend yield right now," said Eliasek.
Related: The Economics Of Valentine's Day: The Money Behind The Love
They are nonetheless extremely diversified, with 130 companies across various industries, he said.
"We find [that] being diversified helps us sleep well at night," said Eliasek.
He also highlighted that they can't promise a "mistake-free future."
Check out the video below for the full on M. Grier Eliasek's interview on Benzinga's #PreMarket Prep:

 Jason Cunningham had no position with the mentioned entities outside of Benzinga while writing this article. Visit Jason on Twitter at @JasonCunningham and @Benzinga.
Posted-In: News Dividends Options Success Stories Hot Markets Movers Interview Best of Benzinga
View Comments and Join the Discussion!