Another Round Of Recalls For Toyota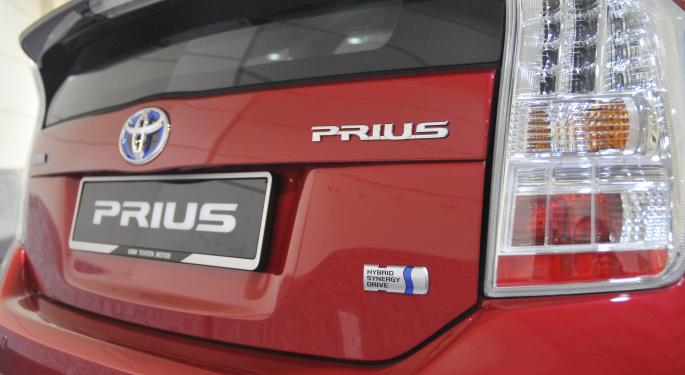 More recall woes for Toyota (NYSE: TM).
On Wednesday the automaker announced a voluntary recall of about 700,000 of its popular Prius hybrid vehicles in the U.S., model years 2010 to 2014, due to a software issue.
Toyota is also recalling a combined 300,000 of its 2012 RAV4, 2012-2013 Tacoma and 2012-2013 Lexus RX 350 vehicles sold in the U.S. to address two other, separate issues. But Toyota says it has received no reports of accidents associated with its recalls.
In a press statement, the company said current settings on the Prius' software could cause "higher thermal stress," that could potentially damage some transistors and, in some circumstances, force the vehicle to suddenly stall.
Another one million Prius vehicles are also being recalled in Japan.
See also: Rising Vehicle Inventories In Detroit - Kelley Blue Book Analysts Weigh In
Toyota reportedly sold more than 234,000 Prius vehicles in the U.S. in 2013, making the hybrid one of the nation's best-selling passenger cars. And while there are concerns another recall might hurt the Toyota brand with consumers, industry observers give the company some credit for taking charge of the problem.
"After the unintended acceleration issues that escalated four years ago, and continue today even as Toyota seeks to settle remaining cases, the automaker clearly feels a proactive approach to addressing vehicle issues is more important than avoiding recall headlines," Karl Brauer, a senior analyst at Kelley Blue Book, said in an email to Benzinga.
"Car buyers appear largely unconcerned by the recall numbers," he also noted, "as Toyota's profit margins and global sales are at record highs."
KBB senior analyst Alec Gutierrez, meanwhile, believes many consumers may give Toyota the benefit of the doubt with these recalls. But he cautions that the company is also facing stiff competition from other car-markers – and needs to reassure potential customers that its vehicles remain safe and top-quality.
"As far as we have seen, there have been very few if any reports of a Prius actually stalling due to the potential software glitch addressed in the recall," Gutierrez tells Benzinga.
"Instead, it seems as though this is another case of Toyota trying to stay ahead of the curve by proactively issuing a recall to ensure those that own a Prius would not be at risk for this potentially low risk software glitch."
Posted-In: Alec GutierrezNews Travel Events Global Media Press Releases General Best of Benzinga
View Comments and Join the Discussion!