Cisco Earnings Preview: What The Analysts Are Saying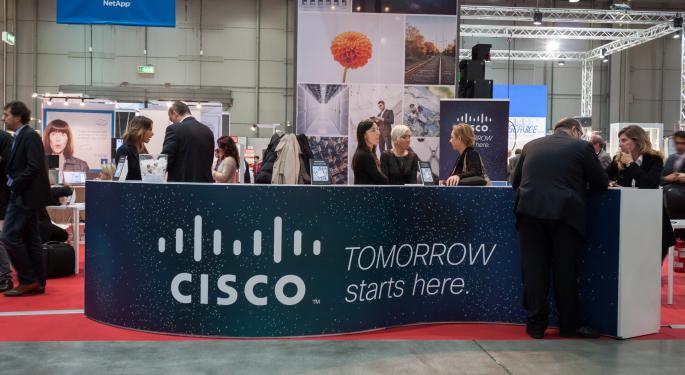 Tech heavyweight Cisco (NASDAQ: CSCO) is set to report its second quarter results after the closing bell on Wednesday. The consensus EPS is $0.46 on revenue of $11.03 billion.
When Cisco reported its first quarter results in November, the company beat the consensus EPS by two cents but revenue fell short of the estimate by $250 million. At that time, management guided its first quarter revenue to decline eight to 10 percent year-over-year and guided its EPS to be $0.45 to $0.47.
Deutsche Bank: Near-term caution
Brian Modoff, research analyst at Deutsche Bank, said that investors should take a cautious approach towards Cisco going in to earnings.
"Despite the +$1.6B Jan Q guidance reset, we remain cautious on near-term fundamentals," said Modoff in a research note to clients on February 9. "Our primary research notes the Nexus 9k is mostly in bookings mode; Web/Cloud portals likely early adopters, and Enterprise 40GE upgrades likely from Jul Q+, given 5k/7k transition issues. Further, we note near-term weakness in Services (potential for restructuring) and in SP routing (JNPR, ALU likely taking edge routing share) and APJC still weak, with a gradually improving US Enterprise and EMEA."
Modoff added that Cisco is "not a broken idea" and that the company remains a market leader and could keep its market leading status as it executes through many several architectural transitions.
Modoff favors shares beyond 2015 as the company's transitions are inherently filled with near-term challenges, which include a soft demand environment that Modoff noted is steadily improving.
Modoff is forecasting Cisco will announce an inline quarterly report as well as an inline to slightly light April quarter guidance.
Shares are Hold rated with a $25 price target.
Related: Verizon Users Report Netflix Quality Deteriorating: Coincidence Or Not?
ISI Group: Recent weakness will persist into April
Brian Marshall, analyst at International Strategy & Investment Group, said that despite investor concerns, he has become more positive on the company.
"While we applaud Cisco's departure in recent years from low-margin businesses such as STBs, home networking, etc., we believe this lever for gross margin stability is not sustainable long-term and look for growth in software-oriented services to help preserve Cisco's business model," said Marshall in a research note to clients on February 9. "Despite concerns over growth and margins, we have actually become slightly more positive on Cisco in recent quarters due to improved positioning for technology transitions such as software-defined networking (SDN)."
Marshall also added that many of the main factors that have contributed to recent weakness in Cisco will continue into the April quarter before beginning to show signs of improvement. Marshall singled out merging market orders as one of the company's biggest weaknesses.
During Cisco's first quarter conference call, John Chambers, Chairman and CEO of Cisco said, "from a macroeconomic perspective, in the last two quarters, our order growth rate in emerging countries, which is over 20% of our product business, has gone from a positive 13% in total in Q3 to a negative 12% in Q1 of this year."
Marshall is projecting that Cisco will report an EPS of $0.45 and revenue of $10.895 billion. The analyst is projecting the company will issue a third quarter EPS guidance to be $0.45 to $0.47 and revenue of $10.89 billion to $11.13 billion.
Shares are Neutral rated with no price target assigned.
Wunderlich: Negative short term outlook, positive longer-term outlook
Matthew Robinson, analyst at Wunderlich Securities said that Cisco's best days are ahead of itself and that investors should expect the current quarter to mark the lowest point in its transition phase.
"Expect the worst of transition quarter for Cisco, but for 2015 to be worth the wait," said Robinson in a research note to clients on February 10. "We model acceptance of Network Convergence System (NCS) family routers, including the NCS 4000 scheduled to ship by F4Q14, to begin reversing router share loss late in the fiscal year, along with similar dynamics for ACI and Nexus 9000 switches for data center switching. Expect continued UCS strength and sequential improvement from Wireless."
Robinson is projecting that Cisco will report an EPS of $0.46 and revenue of $11.00 billion. The analyst is projecting third quarter revenue to be $0.47 and revenue of $11.25 billion. Looking forward down the road, the analyst is projecting the company's full year fiscal 2015 EPS of $2.15 and revenue of $50.00 billion.
Shares are Buy rated with a price target of $25.
Posted-In: Brian Marshall Brian Modoff Cisco Cisco Earnings Deutsche Bank Enterprise 40GE ISI GroupNews Best of Benzinga
View Comments and Join the Discussion!