Just What They Needed: Google Gets An Airfield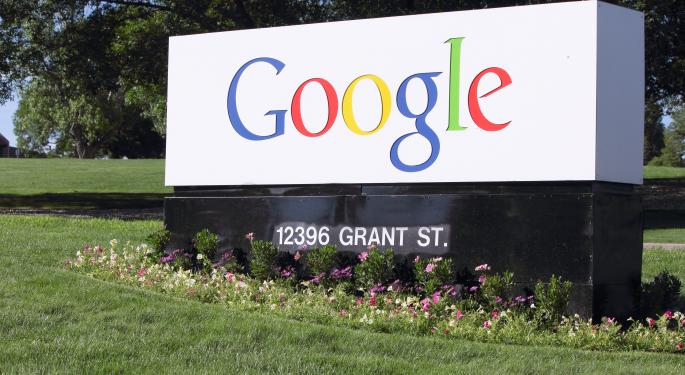 You know a company is large when the federal government chooses it to run and maintain a federal airfield.
On Monday, the General Services Administration (GSA) and NASA announced they selected a Google (NASDAQ: GOOG) subsidiary, Planetary Ventures LLC, to run and regulate Moffett Federal Airfield. The 1,000 acre, former U.S. Navy facilty, built in the 1930s and famous for its huge blimp hangar, had been managed by NASA for decades.
Moffett is also a short drive from Google's Mountain View, California Headquarters. And according to The Associated Press, Google co-founders Larry Page and Sergey Brin currently have a fleet of private planes operating at the airfield, as part of an agreement between NASA and a private aviation company
AP also reports Page and Brin had previously made an offer to pay for renovations at the historic airfield, but were turned down when U.S. officials opted for a competitive bidding process.
Related: Do Olympic Medals Mean A Stronger National Economy?
"The agreement...will benefit the American taxpayer and the community around Moffett," NASA Administrator Charles Bolden said in a joint press statement with the GSA. "It will allow NASA to focus its resources on core missions, while protecting the federal need to use Moffett Field as a continued, limited-use airfield."
But the advocacy group Consumer Watchdog is criticizing the move. It refers to a NASA audit, that determined Google's been getting an unwarranted discount at Moffett on jet fuel purchased from the feds.
"This is like giving the keys to your car to the guy who has been siphoning gas from your tank," John Simpson, Consumer Watchdog's privacy project director, said in a press release. "It is unfairly rewarding unethical and wrongful behavior. These Google guys seem to think they can do whatever they want and get away with it – and it's beginning to look like that is true."
Google's airfield deal is apparently part of the company's greater expansion campaign The San Jose Mercury News says that, in recent months, Google has leased several office buildings near its headquarters and has plans to construct a new office campus on another part of the Moffett property.
View Comments and Join the Discussion!
Posted-In: aviationNews Contracts Events Economics Tech Media Press Releases Best of Benzinga