Janet Yellen Expresses Optimism, But Says Economy Is Not 'Close to Full Recovery'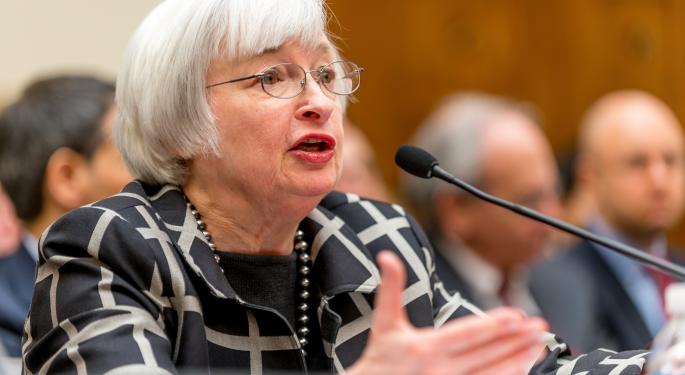 As testimony continued in a manner one blogger described as a "remarkably slow cadence," incoming Federal Reserve Chairwoman, Janet Yellen, told Congress Tuesday that the central bank remains optimistic on the economy and was determined to retreat from its stimulus program slowly.
In prepared remarks Yellen said, "The economic recovery gained greater traction in the second half of last year." She added that the Federal Reserve expected "that economic activity and unemployment will expand at a moderate pace this year and next."
Downplaying concerns about emerging market turbulence, Yellen told the House Financial Services Committee "We have been watching closely the recent volatility in global financial markets. Our sense is that at this stage these developments do not pose a substantial risk to the U.S. economic outlook."
Yellen said she considered herself a "sensible central banker" adding, "We are attempting to, through our forward guidance, to be as systematic and predictable as we can be."
Related: Yellen's Testimony on Semiannual Monetary Policy Report to Congress Feb. 11, 2014
One possible point of contention was the rate hike threshold of 6.5 percent unemployment former Fed Chairman Ben Bernanke said would determine when an interest rate hike would be considered.
Yellen seemed to be unconcerned about that threshold when she said, in prepared remarks, "Just because the unemployment rate is falling rapidly, don't think for a minute that the economy is close to a full recovery."
Instead, Yellen indicated that should unemployment reach 6.5 percent, the Federal Reserve would then look at a range of other factors to help it determine next actions.
To that end, and referring to additional factors contributing to the unemployment rate, Yellen said, "These observations underscore the importance of considering more than the unemployment rate when evaluating U.S. labor market conditions."
Most analysts seemed to agree that Yellen's responses as well as her prepared remarks indicate no substantial change in monetary policy at the Fed.
Jim O'Sullivan, chief U.S. economist at High Frequency Economics in a note said, "Her statement was effectively an expanded version of the last FOMC statement, with no new signals on tapering, thresholds, forward guidance, or recent economic data."
Just before taking a break from testimony in which Yellen said she would be willing to answer questions from all 60 committee members, Rep. Randy Neugebauer (R-Texas) asked Yellen whether she thought the Federal Reserve's QE policy was enabling higher budget deficits.
Yellen responded saying the central bank's bond buying was aimed at growth and that to raise interest rates would hurt the economy.
Following Yellen's testimony Tuesday, additional witnesses, comprised of former Fed vice chair, Don Kohn, Stanford economist John B. Taylor, Cato Institute's Mark Calabria, and American Enterprise Institute's Abby McCloskey were scheduled to offer a critique.
View Comments and Join the Discussion!
Posted-In: Abby McCloskey American Enterprise Institute Ben Bernanke cato instituteNews Events Federal Reserve Media Best of Benzinga