Benzinga's M&A Chatter for Monday February 10, 2014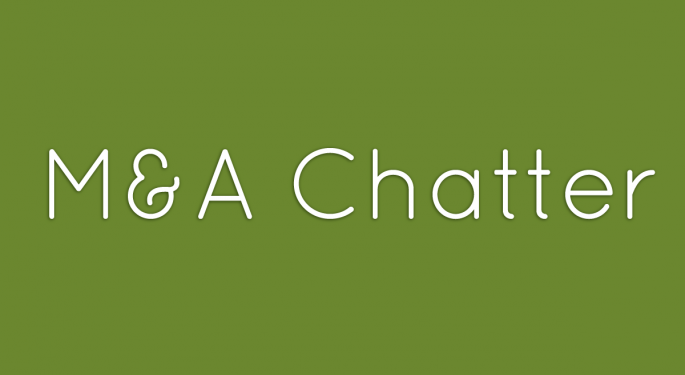 The following are the M&A deals, rumors and chatter circulating on Wall Street for Monday February 10, 2014:
Alibaba Offers to Acquire AutoNavi for $21.00/ADS in Cash
The Offer:
AutoNavi Holdings (NASDAQ: AMAP) announced Monday that its Board of Directors has received a non-binding proposal letter, dated February 10, 2014, from Alibaba, proposing a "going-private" transaction, under which Alibaba will acquire all of the ADS's and ordinary shares of AutoNavi not already beneficially owned by Alibaba for $21.00 per ADS in cash.
AutoNavi's Board intends to form a committee of independent directors to consider the offer. Alibaba currently owns 28% of AutoNavi's total issued and outstanding shares.
AutoNavi closed Monday at $20.57, a gain of more than 24%.
Microchip Technology to Acquire Supertex for $33/Share in Cash
The Deal:
Microchip Technology (NASDAQ: MCHP) and Supertex (NASDAQ: SUPX) announced Monday that Microchip has agreed to acquire Supertex for $33 per share in cash, for a total equity value of about $394 million. The deal is expected to close in Q2 2014.
Supertex closed Monday at $32.95, a gain of 35%. Microchip Technology closed at $44.76, a gain of $0.32.
CNA Sells Continental Assurance to Wilton Re for Net Proceeds of Approximately $615M
The Deal:
CNA Financial Corporation (NYSE: CNA) announced Monday that it has agreed to sell Continental Assurance Company to a subsidiary of Wilton Re Holdings Limited. The transaction is expected to result in net proceeds of approximately $615 million. The closing is expected to take place in Q2 2014.
CNA Financial closed Monday at $42.42, a gain of more
View Comments and Join the Discussion!