Rackspace Earnings Preview: Will Short-Term Setbacks Hurt the Long-Term Picture?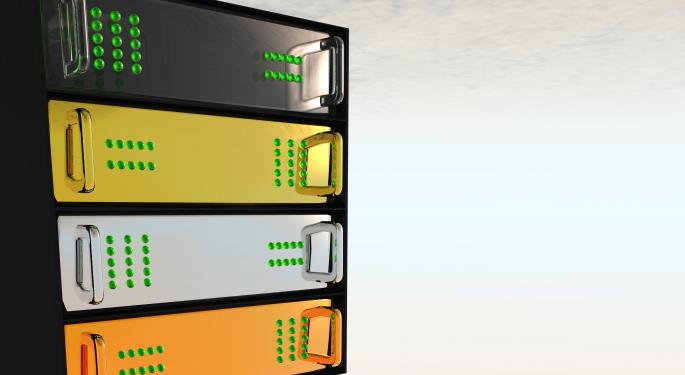 After the market closes on Monday, Rackspace Hosting (NYSE: RAX) will report its first quarter results. The current consensus expectation is for Rackspace to report an EPS of $0.14 and $404.86 million revenue.
Investors will have high expectations for the company's earnings, as the cloud space has seen higher levels of interest as of late. Large tech companies like IBM (NYSE: IBM) have committed over $1 billion towards its cloud services; Amazon.com (NASDAQ: AMZN) reported a 52 percent year-over-year growth in its "other" business segment, the bulk of that being AWS, the market leader in laaS.
The competitive landscape that Rackspace is operating in is at such an early stage that it could benefit more than one provider.
"While AWS benefits from aggressive pricing and its early-mover status, the slow-moving tech adoption cycle of enterprises means plenty of workloads have still not moved to the cloud," said Lisa Lam, analyst at Morgan Stanley, in a note to clients on February 7. "Respondents in our latest CIO survey expect 18 percent of workloads in the cloud by 2015, compared to ten percent today."
Related: Analysts React to LinkedIn's Positive Quarter and Lowered Guidance
Lam is projecting Rackspace to report revenues of $405.3 million. The company has previously guided to revenue reacceleration, as bookings in the managed hosting segment begin to improve. However, Lam said that "the sustainability of this growth is uncertain" and that "while management has historically only provided capex guidance, continued revenue guidance beyond 2013 would be helpful, especially as Rackspace has had a full year operating under OpenStack."
Lam noted that competition "remains aggressive" as Google, IBM, Microsoft and other key players continue to increase their cloud capabilities.
If these tech giants begin to take share with greater scale benefits, Rackspace may be forced to lower its prices. In this scenario, Lam has a "bear case" price target of $23.
On the other hand, if enterprises embrace the open source nature of OpenStack and increasingly outsource in-house applications to the cloud, Rackspace could become the leader in cloud offerings, which could command a "bull case" price target of $71.
Shares are Equalweighted with no price target assigned.
Credit Suisse initiated coverage of Rackspace on February 7
On February 7, Sitikantha Panigrahi, analyst at Credit Suisse initiated coverage of Rackspace with an Outperform rating and $49 price target. In a research note titled "This Cloud Has A Silver Lining," Panigrahi said that the company will reverse a two-year trend and see revenue accelerating in 2014.
"After two years of decelerating growth, we believe that revenue is poised to reaccelerate in 2014 in a predictable manner, driven by improvements in products and sales execution," Panigrahi wrote.
Panigrahi recognizes the competitive nature of the sector and shares similar sentiments as his peer at Morgan Stanley.
Related: Sozzi's Retail Roundup: Starbucks Still Needs To Adjust To Customer Demand
"Furthermore, Rackspace is well positioned to benefit from secular growth trends in cloud computing, as we expect the next phase of cloud market growth to be led by enterprise adoption," Panigrahi continued. "Therefore, we believe that it is too early to rule out Rackspace's ability to maintain or even gain share in the growing cloud market. Specifically, the cloud market is big enough to support multiple vendors and we believe that Rackspace can carve out a niche with its differentiated offering."
Panigrahi remains a long-term bull as the next stage of the industry's growth will occur at the enterprise level. The public cloud market is expected to growth from $6.2 billion in 2012 to $31.4 billion in 2017, representing a compounded annual growth rate of 38.3 percent.
Earnings takeaway
The company's earnings conference call is set to begin at 4:30. In the previous quarters, the company had issued guidance in just a few minutes.
The conference call can be accessed through the company's investor relations webpage.
View Comments and Join the Discussion!
Posted-In: Amazon.com AWS cloud computing Credit Suisse IBM laaS Lisa LamNews Best of Benzinga