Boeing's Commercial Sales Soar, But Defense Side Is Fading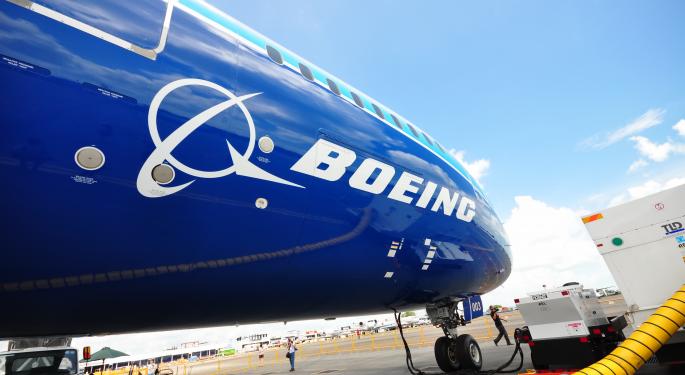 Boeing (NYSE: BA) finds itself at a crossroads, when it comes to which direction the aviation giant will travel in upcoming years. Both company officials and industry observers note Boeing's current reliance on its commercial ventures, and its fading military and defense work, could force the company into some dramatic decisions in the near future.
On Wednesday, Boeing CEO Jim McNerney acknowledged that, while the company's commercial jetliner business was soaring, its defense side facing "flatish" profit margins.
Speaking an investment conference covered by Reuters, McNerney said recent compromises over the federal government's budget have temporarily staved-off planned sequestration cuts, but that "sequestration has not gone away," and neither have scheduled reductions to the Pentagon's overall budget.
See also: Is Ford Ready To Rebound?
He also noted Boeing will likely announce a new round of commerical aircraft orders next week at an airshow in Singapore – although not at the record level of orders announced by the company this past November.
Indeed, Richard Aboulafia, aerospace analyst for The Teal Group in suburban Washington, D.C., forecasts the world's commerical aircraft market will grow to about $115 billion over the next four years, and then decline slightly.
But according to Steve Wilhelm at the Puget Sound Business Journal, Aboulafia warned Wednesday that " Boeing is becoming dangerously dependent on its commercial side, with the end of essentially all of its fighter jet sales rapidly approaching, which might force Boeing to make a major defense acquisition."
During his address at the annual Pacific Northwest Aerospace Alliance Convention, Aboulafia blamed Boeing's decline on two factors: the upcoming end of several important defense contracts, and the emergence of the Lockheed Martin (NYSE: LMT) F-35 as the leading, next-generation fighter aircraft.
"In the next few years we're looking at death of (Boeing's) F-15, F-18, C-17," he said. "If you don't have a stake in the F-35 program, you're in really bad shape."
Aboulafia stressed that Boeing will have a big "cash fall-off" by the end of the decade if it isn't awarded a major defense contract, "which means the next-generation bomber had better be theirs."
View Comments and Join the Discussion!
Posted-In: aviation aviation sectorNews Rumors Events Global Economics Media Best of Benzinga