Blame It On Coca-Cola: Green Mountain Up, SodaStream Down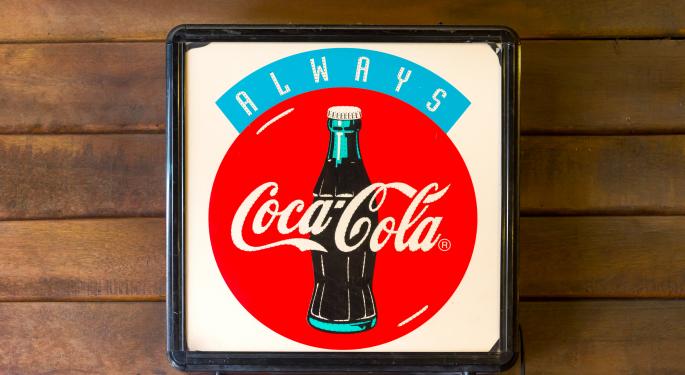 What a difference a little competition makes.
Shares of Green Mountain Coffee Roasters (NASDAQ: GMCR) were up more than 43 percent to $116.00 in pre-market trading Thursday, while rival, SodaStream (NASDAQ: SODA) fell almost five percent to $37.55. (Update: Shares initially traded lower, but are now up over 6 percent in late-morning trading).
In addition, SodaStream was downgraded from Hold to Buy at KeyBanc. Coca-Cola shares were up more than 1.5 percent premarket.
All this following Wednesday's announcement that Coca-Cola (NYSE: KO) was buying a 10 percent stake in Green Mountain. The deal was designed to help Green Mountain compete with SodaStream in the do-it-yourself carbonated cold drink space with branded Coke products in K-Cups designed to work in Green Mountain's new Keurig Cold drink machine set to come out in late 2014 or early 2015.
The new Keurig machines will produce both carbonated and noncarbonated flavored drinks including juices and teas using the familiar pods that work with Keurig's coffee makers. As a result, consumers would be able to produce their own home versions of Hi-C or Fuze juice drinks, as well as Diet Coke and Sprite.
Currently, SodaStream offers only generic, non-branded soda drinks. That could change if Coke's partnership with Green Mountain draws market share from SodaStream, as it is expected to do.
Last July, PepsiCo (NYSE: PEP) squashed rumors that it was in talks to buy out SodaStream. The deal between Coca-Cola and Green Mountain, however, could change the company's thinking. So far, according to Bloomberg, PepsiCo has had no comment.
Related: SodaStream Super Bowl Ad Banned, Again
Green Mountain CEO, Brian Kelley summed it up when he told reporters Wednesday, "In hot beverages, the power of Keurig comes from the fact that we have the world's best coffee brands on it."
Kelley added, "So the strength of the Keurig Cold system is that we will have the best cold brands on it, and those are the Coca-Cola brands."
Importantly, the deal with Coke is not exclusive. That means Green Mountain would be free to pursue partnerships with other soft drink companies. So far, Green Mountain has not said whether that is likely to happen.
Coke's 10 percent state in Green Mountain will cost the company $1.25 billion. In addition, Coke will help with marketing costs for the new line of products. According to Coca-Cola CEO, Muhtar Kent, this deal was part of Coke's efforts to "to identify and stay at the forefront of consumer trends driving the industry."
The new partnership provides a boost to Green Mountain in another way. With the expiration of key patents related to Green Mountain's K-Cup products in 2012, adding branded, well-known soft drink products to the company's entry into the home brewed soft drink space will provide an extra twist that should help sales.
At the time of this writing, Jim Probasco had no position in any mentioned securities.
Posted-In: Brian Kelley Coca-cola Coke Diet Coke FuzeM&A News Media Best of Benzinga
View Comments and Join the Discussion!