Tesla Moves Into Top 5 Of Consumer Reports List Of Auto Brands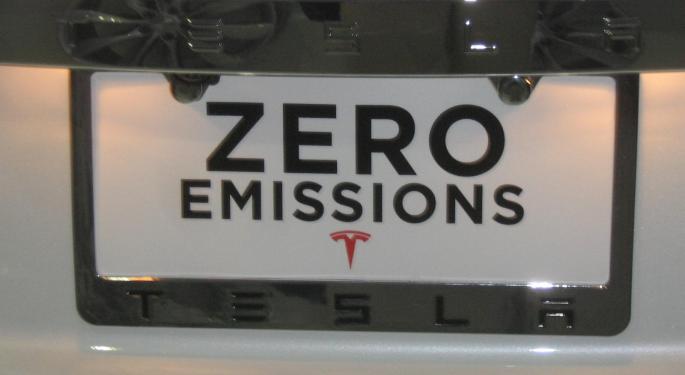 Another sign of how quickly things are changing in the automotive world.
In its Car-Brand Perception Survey for 2014, Consumer Reports say the usual suspects – Ford, Honda, Chevrolet and Toyota – continue to remain the top brands in consumers' minds. But a surprising new entry, Tesla (NASDAQ: TSLA), is also standing out in the minds of car-buyers when it comes to brand image.
"The key word here is 'perception,'" says Consumer Reports, "as influenced by word-of-mouth, marketing, and hands-on experience. Often, perception can be a trailing indicator, reflecting years of good or bad performance in a category, and it can also be swayed by headlines" – including positives like awards or negatives like recalls.
Related: Exclusive: Tesla Says It Welcomes Competition In The Electric Car Market
Consumer Reports says it scores each brand using seven categories – quality, safety, performance, value, fuel economy, design/style and technology/innovation – to come up with a total brand-perception ranking.
And while the big car makers jockeyed with each other for top dog, Tesla reportedly jumped 47 points from its standing last year into fifth position on the list. Consumer Reports points to the electric car's recent headlines,and high-profile marketing – as well as its top-rated car ranking by Consumer Reports itself – for dramaticaly raising the brand's profile with consumers.
Industry analysts, meanwhile, say they're not surprised to see Tesla on the Consumer Reports list.
"Consumer Reports has contributed to Tesla's image by giving the company high marks, but they also cautioned the automaker is relatively young with an unproved history, and that remains true," Karl Brauer, a senior analyst at Kelley Blue Book, told Benzinga.
"Tesla's strong performance reflects a public perception that the company is among the most advanced and luxurious brands available," he added. "It's impressive that Tesla has accomplished this so quickly after the Model S' introduction, though people forget they've been around for more than 10 years."
View Comments and Join the Discussion!
Posted-In: automotive industryNews Travel Tech Media Reviews Press Releases General Best of Benzinga